Advanced Multi-rotor Drone
[[File:

|300px|center|alt=]]
Example
Sponsors
Peter Baran
Team Name
Two birds and one drone(TBOD)
Duration
Fall 2018 - Spring 2019
Faculty Adviser
Dr. Feng Li
Client
Peter Baran
Team Members

Caleb Smith
Makynzie Zimmer
Preston Stephens
Matthew Shryock
Pengqiang Ge
Design Goal
[
edit
]
The basis of this project is to combine the use of lifting bodies and FPGAs to create a more efficient drone. The use of the lifting body will cut down on the amount of power needed to keep the drone in hover mode and will allow more power for the control systems. This will result in a longer flight time, allowing more land to be surveyed in a single flight. In addition, we will characterize the most efficient motor through motor testing to save power. In addition, this project has a potential application that conducting geographic mapping and photography with less power consumption. The idea is to map the landscape features and collect more accurate data through the drone camera without designating human resource, especially in some remote areas.
Project learning
[
edit
]
Motor characterization
[
edit
]
Detailed Specifications
[
edit
]
The FPGA based control system
1 Kg lifting weight
30 minutes flight time
Power saved and efficient
Mechanical Simulation
[
edit
]
Matlab Simulation
[
edit
]
The final customized flight path is the grid path because we will install a camera below it for the sake of geographic mapping. So the slow grid flying path can be helpful for both taking and stitching the images. As that picture indicates, The drone will be ascending linearly to reach a certain height from the ground, we set (5,1) as the home and landing point. then the display begins until it reaches the return back point where the display ends and then it will return and land to its original position automatically.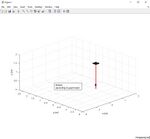 Eagle simulation
[
edit
]
Flow chart for control system
[
edit
]
File:FPGA Flow Chart.pdf
Design Validation
[
edit
]
Requirement
Test
Test subject
Target Date
Result
Prototype Motors need to be able to produce enough lift for flight and control
Measure the thrust produced by the motors with a motor test
prototype Motors and Rotors
10.17.18
Motors produced a reasonable amount of lift that is Approximately 380 g.
Flight Time and/or Flight Distance shall meet or exceed current industry performance
Field test performance
Fully functional final product
4.26.19
Finished Product may not exceed 6 feet in any direction
Measure finished product
Fully functional final product
4.26.19
Maximum weight shall not exceed half the maximum thrust of the prototype
Measure thrust using thrust stand. Measure weight using the Wheatstone bridge in the drone lab.
Fully functional prototype
11.26.18
The helium balloon will displace at least 1/3 of the total drone weight.
Lift of the balloon and drone weight will both be measured using the Wheatstone bridge in the drone lab
Fully functional prototype
4.26.19
Sample rate of at least 1kHz is required for characterizing the motor response
Use Arduino microcontroller to test sample rate
4 individual motors with rotors
11.26.18
Maximum flying time shall meet or exceed 30 minutes
Outdoor flying testing to measure the life of battery
Fully functional prototype
1.25.19
Final product must be able to correct orientation in approx 2 m/s winds
Place product in a controlled environment with up to 4.5 m/s of wind
Fully functional final product
4.26.19
Be able to control its flying direction by using programming and controller
Set product in an uncontrolled environment outside
Fully functional final product
4.26.19
Produce a balloon for prototype that has approx 280 g of lift
Measure the lift of the balloon using the wheatstone bridge assembly in the drone lab
Fully functioning prototype balloon
3.15.19
Produce a balloon for final product that has approx 500 g of lift
Measure the lift of the balloon using the wheatstone bridge assembly in the drone lab
Fully functioning final product balloon
4.26.19
Produce a arduino based flight controller
Confirm that the controller produces stable flight and responds to user commands
Fully functioning prototype product balloon
11.26.18
Produce a FPGA based flight controller
Confirm that the controller produces stable flight and responds to user commands
Fully functioning final product
4.26.19
Be able to perform the grid path and return to home point
Field testing
Fully functioning final product
4.26.19
Final design
[
edit
]
Team Members
[
edit
]
Picture
Bio
Discipline

Caleb Smith:

 I'm a senior in Mecjh 


ME
Makynzie Zimmer :

I'm a senior in mechanical engineering here at UI and am from Boise, ID.


ME

Preston Stephens:

I am a senior from Coeur d'Alene, Idaho focusing on digital design.


Email: step1133@vandals.uidaho.edu

CompE
Matthew Shryock:

I'm a senior in Electrical Engineering, and I'm from Coeur d'Alene, Idaho.


EE

Pengqiang Ge:

I am a senior from China.


Email: ge2451@vandals.uidaho.edu

EE



Additional Documentation
[
edit
]
Project Schedule
Meeting Minutes
9/20 Meeting Minutes
9/28 Meeting Minutes
10/04 Meeting Minutes
11/01 Meeting Minutes
11/08 Meeting Minutes

Client Interview