Assistive CPR Device
Jump to navigation
Jump to search
2020 Engineering Capstone Project
Duration
Summer 2020 - Fall 2020
Team Name
120CCs
Members

Josh Sewell
Abdulrahman Almajnouni
Ahmed Al Nahab
Ty Newman

Faculty Adviser

Dr. Steven Beyerlein
Dr. Vibhav Durgesh

Mentor
Sponsors
Client

Jeff Seegmiller, Director, Idaho WWAMI
CPR is an acronym for Cardiopulmonary Resuscitation, an emergency procedure that is used to preserve brain function through artificially circulating the blood through the body. Conducting CPR is a physically demanding procedure that requires special training. The purpose of this project is to make CPR simpler and less physically demanding, allowing for our physically challenged client to successfully perform CPR. Eventually, we hope that this device can be adapted or inspire future iterations that would allow others with disabilities to perform this life saving technique.
Background
[
edit
]
CPR is an important life saving technique for victims who can not breath as well as those suffering from cardiac arrest. In statistics posted by the American Heart Association, having a bystander who can perform CPR improves the victims survival rate by almost 45 percent.
For this project, 120CCs were recruited to design a device that would assist a medical student with a disability conduct CPR. With a final goal of helping them pass their CPR examination to further progress into the medical field, as well as empower them and others with similar ailments to pursue their dreams in the medical field.
120CCs design team has acquired a CPR training mannequin to use for testing both prototype and final designs. Additionally, 120CCs will be using a volunteer to test if the design will provide mechanical assistance for physically challenged individuals.[1]
Specifications
[
edit
]
The Assistive CPR device needs to meet several design specifications in order to be both practical and usable for emergency medical situations.

The Device must be compliant with American Heart Association Guidelines. [2]
The Device must be able to compress the chest a minimum of 5 cm to a maximum of 6 cm.
The device should use a force multiplication system to help physically weaker individuals apply the necessary force and pressure to compress the chest a minimum and maximum depth.
The Device should be portable and easily stored for quick access/use during a medical emergency.
The Device must fit an average human as well as be easily maneuverable to apply compressions to the proper location on the sternum.
The Device must withstand 1,000 hours of use without structural damage.
The Device must be lightweight and easily deployable with a mechanized wheelchair.
Design Developments
[
edit
]
Initial Designs and Project Expectations
[
edit
]
Project Description: "...The WWAMI Medical Program at the University of Idaho is interested in developing a device that people with minimal physical strength can use to provide necessary chest compression. The device would be used on people suffering from cardiac events, in locations such as assisted care facilities and rest homes We envision that someone in a wheelchair could move and position the device, then add the force required…"
With this in mind 120CCs began the project with designing devices usable from a wheelchair. Dr. Crepeau also provided an initial prototype to help guide the team on the right track.
Baseboard Lever Design
[
edit
]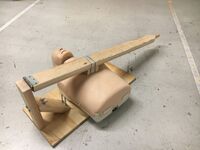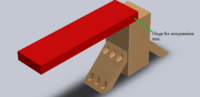 Dr. Crepeau provided an initial prototype to help guide the team on the right track. Insert photo of Dr. Crepeau Design. The initial design although effective, did not work with CPR test requirements of not moving the mannequin to be placed ontop of the base board. Fortunately Abdulrahman created a second iteration of the device that would work without the base board. The design also, in theory, was to be exceptionally portable with its simplicity.
Dual Fulcrum Design
[
edit
]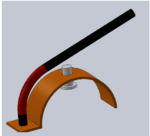 One of the initial iterations of the project was the dual fulcrum design created via Solid Works by 120CCs team member Ahmed shown to the left. The second fulcrum would provide the force necessary for the patient to receive the necessary compression while maintaining a lever arm that could be extended and thus accessible to a person in a wheelchair. The simplicity of the design also lends to the ability to break down and be stored effectively or carried by disassembling the lever from the compression arch.
Revised Design and Project Expectations
[
edit
]
After receiving knowledge of our clients full capabilities, our previous designs were scraped and the team went back to the drawing board. Intent on creating design specific to our clients personal strengths. We at 120CCs, interviewed our client and discussed they were capable and comfortable in doing, as well as taking measurements of their wheel chair and ability of strength.
Wheel Chair Box Lever Design
[
edit
]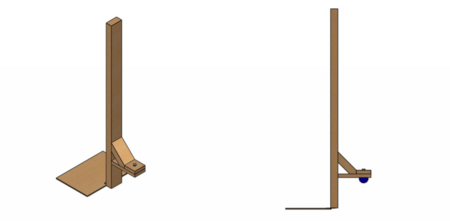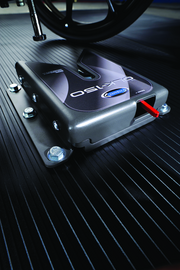 During a meeting with the WWAMI medical student, they mentioned that they use a mechanism in their car to lock their wheelchair into place behind the steering wheel to allow them to safely drive their car. This system, is colloquially called the EZ-Lock System. It is used widely to allow for operation of a vehicle from a wheel chair. We thought this device could be a good base for integrating the Rotating Arm Device into the student's wheel chair. If all goes according to plan this will allow the student to "dock" into the Assistive CPR Device and subsequently manipulate it with their wheel chair.
This design met all requirements of storage limitations, maneuverability as well as lightness and ease of use for the client. The device also provided enough mechanical advantage to apply approximately 100-120 lbf to the sternum of the mannequin.
Team Members
[
edit
]
Josh Sewell

Major: Mechanical Engineering
Hometown: Pullman, Washington
Responsibility: Project Lead, Communications


Abdulrahman Almajnouni

Major: Mechanical Engineering
Hometown: Saudi Arabia
Responsibility: 3D Modeling and Manufacturing


Ahmed Al Nahab

Major: Mechanical Engineering
Hometown: Saudi Arabia
Responsibility: 3D Modeling and Manufacturing


[[File:|180px|thumb|left]]
Ty Newman

Major: Material Science Engineering
Hometown: Payette, Idaho
Responsibility: Wiki Page, Admin

Additional Documentation
[
edit
]
Presentations
[[File:]]
[[File:]]
[[File:]]
[[File:]]


Client Interview
[[File:]]