Clean shooters
Jump to navigation
Jump to search
Visible Particle Inspection Device

[

edit

]
Problem Statement: To design and build an inspection device that will detect particles present in fluid contained in both 2.25mL and 10mL glass syringes as well cracks in the syringes themselves.
Team Members

[

edit

]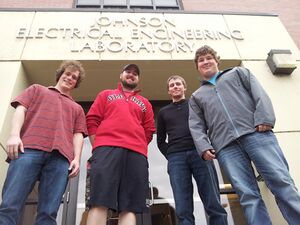 Nick Rodriguez (Electrical Engineering Student)

Hails from Pocatello, Idaho.

Nate Pueschel (Mechanical Engineering Student)
Justin Herrick (Mechanical Engineering Student)

Hails from Eagle River, Alaska.

Greg Atkinson (Mechanical Engineering Student)

Hails from Gig Harbor, Washington.
Project Description

[

edit

]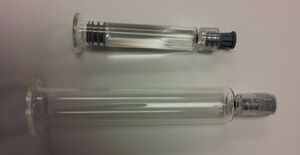 Outcome
The device needs to clearly display a pass/fail indication for each syringe inspected so that the operator can separate the 'good' syringes from the 'bad'.
Passing Requirements
No visible cracks on the glass
No particles over 40 microns (Human eye smallest viewing)
Proper level of head space between the liquid and the stopper
Specifications
Under 2' by 3' base dimension
Approximately inspects one syringe/second
Clear, easy to understand, pass/fail indications
Must operate in refrigerated environment (5°C ± 3°C)
LED lighting that provides good contrasts
Current Rough Concept

[

edit

]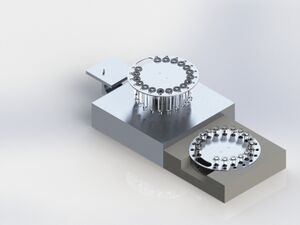 Main Ideas
Two stations so that the machine can be running at all times
Fully automated so that there is little human factor involved
Use a Micro-controller to be the brains of the operation
Camera to take pictures of the syringes
Those pictures will run through an analysis program to determine if the syringes are clean
LED lights will show if the syringes are clean or not
Loading station to unload/load the syringes
Technology and Software

[

edit

]
Small compact GigE Vision camera, Genie TS-M4096
ATS Smartvision Softare
Cerbot MicroController
Sponsor

[

edit

]

Revalesio Corporation is a pioneering biotechnology company based in Tacoma, Washington, dedicated to restoring hope and transforming lives.
"Our goal is to maximize the benefits of our novel technology by developing products that represent a potential new class of treatments for inflammatory mediated diseases. To that end, Revalesio has partnered with leaders in biomedical research as well as non-profit organizations around the world, to help us deliver on our promise to bring hope to people around the globe."