Discovery Center - Gesture controlled robot
[[File:

|300px|center|alt=]]
Sponsors
Team Name
U of I Discovery
Duration
Fall 2018 - Spring 2019
Faculty Adviser
Mentor
Client

Discovery Center of Idaho

Team Members

Evangelos Stratigakes
Chaeun Kim
Zhihui Wang
Austyn Sullivan-Watson
The goal of the project is to equip the Discovery Center of Idaho with their first fully functioning, motion actuated robotics exhibit. This exhibit will feature a robot arm that can be controlled using hand gestures as well as a variety of activities that users can complete based on different skill tiers (beginner, intermediate, and advanced).
Problem Definition
[
edit
]
We need to be able to control a robotic arm using hand gestures, tracked through a motion sensory device. In addition, our robot must be able to operate within the confines of it's enclosure such that it is safe for the user to operate and that the robot is not damaged by user input.
Background
[
edit
]
Currently, the Discovery Center of Idaho does not have a robotics exhibit to show. This project will allow children and patrons of all ages to learn about robotics as well as interact with a live robot that they can control using only their hand gestures.
Deliverables
[
edit
]
Fully assembled robot arm with leap motion sensor
Software program to control robot
Documentation on how to operate/ maintain/ troubleshoot the system
Specifications
[
edit
]
Robot arm must be compact and transportable
2-3 activities that the robot arm can perform based on user skill

Beginner
Intermediate
Advanced

User must be able to control robot using a Leap Motion controller
Activities must be able to be reset easily for the next user
Parts used (actuators, microcontrollers, etc.) must be easily replaceable and maintainable
Exhibit must be safe for all ages to operate
Project Learning
[
edit
]
Leap Motion
[
edit
]
The Leap Motion controller is a motion tracking device that can be used to track hand gestures. The controller is capable of tracking an individual's palm, forearm, and each individual finger joint. In addition, the sensor can track two hands at a time. This controller tracks hand gestures using two different cameras, and is found to perform better when overhead light is at a minimum.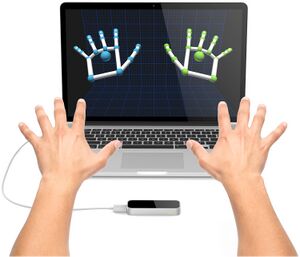 Servo Diagram
[
edit
]
This diagram shows the configuration of the servos used to actuate the robot arm.
Servo 1 controls the base rotation
Servos 2 and 3 control shoulder movement
Servos 4 and 5 control elbow movement
Servo 6 controls the vertical movement of the wrist
Servo 7 controls the wrist rotation
Servo 8 controls the end effector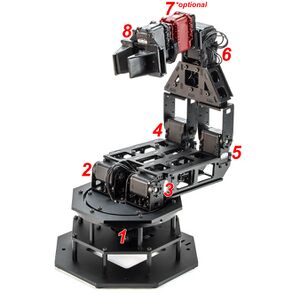 System Diagram 1
[
edit
]

System Diagram 2
[
edit
]

System Diagram 3
[
edit
]

Validation
[
edit
]
Team Members
[
edit
]
[[File: |180px|thumb|left]]
Evangelos Stratigakes

Major: Computer Science
Hometown: Boise, ID
Graduation Date: May 2019
Future Goals: After graduating, Evangelos wants to work as a software engineer for a major tech company.
Email: stra8803@vandals.uidaho.edu





[[File: |180px|thumb|left]]
Zhihui Wang

Major: Mechanical Engineering
Hometown:
Graduation Date:
Future Goals:
Email: wang6162@vandals.uidaho.edu





[[File: |180px|thumb|left]]
Chaeun Kim

Major: Computer Science
Hometown:
Graduation Date:
Future Goals:
Email: kim7885@vandals.uidaho.edu





[[File: |180px|thumb|left]]
Austyn Sullivan-Watson

Major: Mechanical Engineering
Hometown:
Graduation Date:
Future Goals:
Email: sull1271@vandals.uidaho.edu




Additional Documentation
[
edit
]
Project Schedule
[[File:]]

Meeting Minutes
[[File:]]

Presentations
[[File:]]
[[File:]]
[[File:]]
[[File:]]


Client Interview
[[File:]]