EEG for Human and Rat
Jump to navigation
Jump to search
2020 Engineering Capstone Project
Sponsors
Team Name
Engineers Expecting Greatness
Duration
Fall 2020 - Spring 2021
Faculty Adviser
Mentor

Joseph Schmalz
Andrew Branen

Client
Team Members

Jake Varney
Grace Frazier
Kate Antonov
Mohamed Hassan
Shubhangi Kaushik
Kiran Pelluri
Max Moore
Problem Definition
[
edit
]
The goal of the project is to create a low cost electroencephalogram device (EEG) that collects accurate data, and is easy for high school students to use and have access to. The secondary goal for this project is to create another EEG device for rats, that is to be used as a non-invasive testing method.
Background
[
edit
]
The first part of this project stems from the need for more affordable resources for high school student. The average cost for an EEG is upwards of $800, which is much too expensive to be utilizes in most high schools. This is where we come in, we are trying to create an EEG device that can be made for under $100 that is able to collect accurate data, and aide the learning of students. The second part of this project comes from there not being a way to read a rat's brain waves without being incredibly invasive to the rat as well as endangering its life. We are out to create an EEG that is small enough and accurate enough to read a rat's brain waves without being overly invasive.
Deliverables
[
edit
]
For this project, our final deliverables will be slightly different based on the species it is meant for. For the human edition of the EEG, we are hoping for a fully functional, reliable, brain wave measuring device that is under $100. For the rat edition of this project, we are expecting to finish with a fully functioning EEG device, that is non-invasive, and can be used to measure the brain waves of rats.
Specifications
[
edit
]
Human Edition:
This version of the EEG has a few requirements that need to be met. This will be a very lightweight device that is more portable than most. It will also be made from neoprene and be flexible enough to fit almost any head. This will be nice for high schoolers to use because it is very universal. It also needs to be under $100 to make in order for it to be affordable for high schools to have access to.
Rat Edition:
The rat version of this project has a few different requirements. The main one is for the device to be non-invasive. As of now, there really are not any EEG devices out there that work for a rat brain. Most procedures involve implanting the EEG itself into the rats brain, which requires surgery and is dangerous for the rat. For this device, we will be able to simply place it on top of the rats head, and it will read the waves.
Design Considerations
[
edit
]
For this EEG, we changed up the design from the previous years. They have all gone with a rigid 3D printed design, but we are trying to find something more flexible. For this we decided to use neoprene and make it more of a "wig-cap" design to ensure a stronger connection. The neoprene reduces the amount of noise to to lack of shifting around, and seems to be the best design. For the rat version of this, the device will be significantly smaller than the human one. We will instead use only four electrodes, and make the process as non-invasive as possible.
Prototypes
[
edit
]
Throughout the process of trying to come up with a new design for this project, we had a few different prototypes in mind. The initial direction that we were thinking of going with was using hydrogel. This was a very short lived idea because we soon realized that hydrogel is only good for more of a one-time-use. After this, we created an actual prototype based on what we were given to work with.
Expensive EEG Device
[
edit
]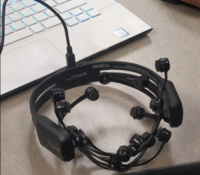 This is the actual EEG device that we were provided with by Dr. Kumar. This device is very accurate and works quite well, this being because it is the very expensive version of what we are trying to make for cheap. This device gives us the opportunity to compare the data that we receive from our headset to the one that we know works. This will make our data much more accurate because it will let us know weather we are on the right path or not.
How EEG Devices Work: The EEG headset will have various electrodes that lay on the scalp in a non-invasive fashion. These electrodes pick up on any electrical activity going on in the brain, and it will convert those collected signals and store the data. This is most commonly demonstrated in the form of a moving graph (resembling a sine wave), and the spikes will go up and down based on the amount of electrical activity going on within the brain. EEG Devices are important because they can be used to help diagnose conditions such as seizures, epilepsy, head injuries, dizziness, headaches, brain tumors and sleeping problems. It can also be used to confirm brain death.
Wig Cap Design
[
edit
]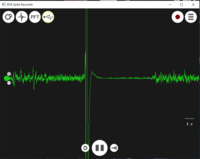 This is the second design that we thought of, and it was eventually the design we went with. We ended up creating a fully functional prototype of this design. It is a scuba cap made out of neoprene that we had purchased, and then we sewed the electrodes into the cap. There are many pros to this design:
Flexible: This design allows more comfort on the heads of the users.
One size fits all: This design can be used on almost any head. The flexibility allows it to be diverse in size.
Secure to head: Due to the neoprene material, this cap fits secure to the head of any wearer.
Reduces noise: There are usually many outside sources of noise, but the cap has a tight fit that secures the electrodes to the scalp without room to move
Comfortable: This design was made to be comfortable as well as functional.
Project Learning
[
edit
]
Final Design
[
edit
]
Validation
[
edit
]
Team Members
[
edit
]
Major: Mechanical Engineering
Hometown: Clarkston, WA
Responsibility: Wiki Master
Email: fraz3145@vandals.uidaho.edu





Major: Electrical Engineering
Hometown: Cairo, Egypt
Responsibility: Agenda and Documentation
Email: hass7410@vandals.uidaho.edu





Major: Biological Engineering
Hometown: Emmett, Idaho
Responsibility: Team Leader
Email: varn5606@vandals.uidaho.edu





Major: Electrical
Hometown: Palm desert CA
Responsibility: Agenda and Documentation
Email: anto5307@vandals.uidaho.edu





Major: Biological Engineering
Hometown: India
Responsibility: Meeting Organizer
Email: kaus1311@vandals.uidaho.edu





Major: Computer Science
Hometown: Idaho Falls, ID
Responsibility: Treasurer
Email: moor9140@vandals.uidaho.edu





Major: Computer Science
Hometown: Guntar, India
Responsibility: Primary Contact
Email: pell4915@vandals.uidaho.edu

Additional Documentation
[
edit
]
Project Schedule
Meeting Minutes
9/15 Meeting Minutes
9/18 Meeting Minutes
9/22 Meeting Minutes
9/24 Meeting Minutes
9/29 Meeting Minutes
10/2 Meeting Minutes
10/6 Meeting Minutes
10/8 Meeting Minutes
10/9 Meeting Minutes
10/12 Meeting Minutes
10/13 Meeting Minutes
10/15 Meeting Minutes
10/20 Meeting Minutes
10/23 Meeting Minutes
10/27 Meeting Minutes
10/29 Meeting Minutes
11/3 Meeting Minutes
11/5 Meeting Minutes
11/9 Meeting Minutes
11/10 Meeting Minutes
11/12 Meeting Minutes
11/16 Meeting Minutes
11/17 Meeting Minutes
12/1 Meeting Minutes
12/3 Meeting Minutes
12/8 Meeting Minutes

Presentations
Snapshot 1 Presentation
Concept Design Review
Snapshot 2 Presentation
Client Interview