Ethanol Fermenter
Jump to navigation
Jump to search
Fostail BioSystems
Sponsors
Team Name
The Yeasty Boys
Duration
Fall 2013 - Spring 2014
Faculty Advisers
Dr. Thomas Hess
Mentor
Jeremy Cuddihy
MuPor Technologies has designed and patented a novel rapid fermentation bead system that has reduced fermentation time from 36 hours to just 6 hours. These beads have been shown to be effective for bench-top scale fermentation and microbrewery purposes, but their full potential will likely require a specifically designed fermenter tailored to the design of the beads at a large demonstration scale (~200 gal.). Fostail BioSystems' mission is to design and commercialize the new fermenter technology designed specifically for the BioEx beads.
Design Task
BioEx beads can quadruple the production capacities of ethanol industries, whilst increasing ethanol yield by 5%. It overcomes difficulties of fermentation, like excessive foam formation, excessive heat release, recovery and reuse of bio-catalysts. Our mission is to have a fully functional 150-300 gallon fermenter system operational that takes advantage of the BioEx beads, and if possible to be distilling and producing ethanol for fuel use.
Our major project goals are:
Build a fermentation system that is capable of industrial use
Fully utilize the advantages of the BioEx beads
Show significant fermentation time reduction with the use of BioEx beads
Create a system that is simple to retrofit to current fermenters
Prove that a layered fermentation system is a feasible replacement to traditional designs
Detailed Specifications
| General Requirement | Specific Requirement | Target Values |
| --- | --- | --- |
| Time | Reduce the time of fermentation. | To reduce the typical fermentation time from 36 hours to 6 hours. |
| Production | Increase production capacity and yield. | To at least triple the capacity of ethanol production and increase the yield by 5%. |
| Foaming | Decrease the amount of foaming during fermentation process. | To remove all foaming formation and maintain surface tension of solution. |
| Reuse | Show reusability of BioEx beads. | To show the beads can be used for over fifty fermentation runs. |
Project Learning
Background Research
In a margin environment with high corn prices, relatively low oil prices and stagnant consumer demand for gasoline, the ethanol industry has borne witness to razor thin margins. The crunch has caused everything from slowdowns to temporary full shutdowns as producers wait for prices to even out and attempt to pinpoint where they can squeeze even the smallest of profit increases out of each gallon of fuel they produce. It wasn't always that way for the ethanol industry. A decade ago, ethanol producers may not have considered that type of incremental changes, but these days, a boost of even half a cent per gallon could make the difference between an operational or idled ethanol plant(Bevill 2012).
MuPor Technologies (MPT) has a patent pending biocatalyst bead technology (BioEx beads) which produces ethanol in a more sustainable way than current fermentation practices. BioEx beads increases ethanol yield from current 88 - 90% to 95% and decreases production time from 36 hours to 6 hours. Increasing the fermentation rate with BioEx beads prevents excessive foam formation, a common problem of fast fermentation requiring expensive anti-foam agents. The results are reduced production costs, increased ethanol yield, and more sustainable production. It overcomes difficulties of fermentation, like excessive foam formation, excessive heat release, recovery and reuse of bio-catalysts.
Using the new BioEx bead technology, Fostail BioSystems wants to create a new fermentation design to fully utilize the beads.
Variations
Advantages and disadvantages of fermentation variations
Type
Advantages
Disadvantages

Generally most cost-effective
Much simpler design

Requires more catalyst i.e. beads
Large reactor for solution and beads to stay in

Doesn't require large areas
Increased contact time
No need for changing solution in and out

Very high cost
Cost is much higher
Process must be very precise
Initial Interviews
Interview with Tushar Jain (Mupor Technologies) and Ryan Meek (Fostail BioSystems)
Some information redacted due to NDA
Budget:
Reagent:

Table Sugar is the primary reagent.

Sterilization:

Beads do need to be sterilized on occasion.

Reactor Material:

Plastics and most metals are usable.
Project Timeline
Beginning of spring semester (1 Jan- 29 Feb)

Decide on Design Option
Begin building scale model of final design
Create cost analysis for final design

Middle of spring semester (1 Mar-15 Apr)

Test scale model
Decide on manufacturing for final construction

End of spring semester (16 Apr-2 May)

Build finish product
Run finished product (design validation)
Final Design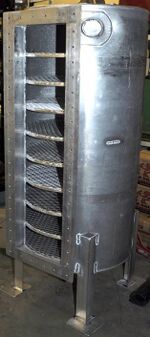 Some detailed design specifications, drawings, and information redacted due to NDA.
The final design is a 120 gallon reactor. The reactor is made of aluminum with welds made from aluminum filler. There is a side hatch for easy entrance for the beads. Solution will enter from an opening at the top and the final solution will be extracted from a valve at the bottom of the vessel.
Final Design Specifications
Vessel Volume
120 Gallons
Process
Batch
Operating Temperature
70-100 F
Bead Loading
300 Grams Per Liter
Team Members
| | Bio |
| --- | --- |
| | I'm a senior graduating in May 2014 with a degree in Environmental Engineering. I enjoy working on vehicles and spending time in the outdoors. |
| | I'm a senior mechanical engineering student graduating in May 2014. I am currently a member of the University of Idaho NROTC. |
| | I am a senior mechanical engineering student graduating in December 2014. I am currently a member of the University of Idaho AFROTC. |
| | I'm a senior at the University of Idaho. I enjoy hunting, fly-fishing and general outdoor activities. I will be graduating in spring of 2014 in bioenergy. |
| | I'm a returning student, finishing a second degree in Environmental Engineering this spring. Currently I'm juggling school, work, and family. |
Document Archive
References