Eye Medication Applicator
Jump to navigation
Jump to search
Our goal is to design, fabricate, and test a product that will effectively deliver medication to the eye in a way that will appeal to a wider audience than products currently on the market.
The latest complete prototype as of October 2014
Team Name
Vision Quest
Team Members

Bruno Wilson
Ashton Bailey
Johnathan Baily

Sponsors
Faculty Advisors

Dr. Steve Beyerlein
Dr. Dan Cordon
Russ Porter

Project Period
Summer 2014 - Fall 2014
Design Specifications
Our product must follow a number of guidelines
Each application must deliver 0.5 mL of medication to the eye
At least 90% of the medication must make direct contact with the eyeball
The product must be usable for the average person between the ages of 8-85
The applicator must be compatible with all prescription eye-dropper bottles
The bottle will not be manually squeezed during use
The user will not have to tilt their head back more than 10 degrees during use
The user will not have to move their shoulder more than 15 degrees from resting position during use
The user will not have to flex the ends of their fingers to more than 135 degrees inward from a straightened position
The average user must be able to change bottles within 15 seconds
Project Learning
The aim of our project is to solve problems related to the application of eye medication. We looked at any and all problems that may arise in using eye drops and narrowed our focus to four main issues. While these are all deemed important to our goals, not all of them will receive the same focus. These problems are ranked from most relevant to least relevant within our project goals.
[Most Relevant] Lack of dexterity with users such as lack of neck and shoulder dexterity and inadequate fine motor skills
Wasted medication as a result of inaccuracy or inappropriate dosage
Inconsistent application approach as a result of ill-defined application methods for current products and misuse of products
Undesirable reflexes such as anticipation, blinking, and uncooperative behavior
Design Ideas
In the early stages of our project, we designed and printed a number of prototypes with different goals in mind. Each design has unique functions as well as advantages and disadvantages. Our current design utilizes and improves upon features from other prototypes such as the three listed below.
Picture
Description
Pros/Cons
Angled Applicator

This was our first printed design.

The purpose of this design was to remove head tilt from eye-drop application.

To use it, the user tilts their back 45o and holds the cup over their eye.

Advantages:

Requires no sanitation
Form-fitting contact area
Applicator fits comfortably in-hand

Disadvantages:

Model is bulky and requires a large amount of material
Still requires head tilting
Requires great force to squeeze the bottle

Nose-fitted Guide

This design was focused toward making the product as simple as possible.

The applicator was worn on the bridge of the nose.

The medication would be dropped into each hole corresponding to the left and right eye.

Holes on the ends of the device would then drip medication into the inner corner of each eye.

Advantages:

Compact and simple design
Can be used on either eye or both at once
Assists those with low shoulder dexterity

Disadvantages:

Head must be tilted back
Usage requires multiple steps
Nose fit varies too much

Angled Applicator with Nozzle

This design revisits concepts from our first angled applicator.

The eye cup helps keep the eye open and the nozzle allows the medication to squirt into the eye.

Advantages:

Light-weight design
Contours to fit over the eye
Simple usage

Disadvantages:

Requires squeezing the bottle
Does not mitigate head-tilt
Does not aid with joint dexterity
Detailed Design
Our design consists of three major components - the casing, the button/head, and the internal pump and nozzle. The piping and nozzle are not shown, but the pump drives flow through the nozzle. The current nozzle was adopted directly from a commercial product - the final product will have a custom-made nozzle. The casing, button, and head will be injection molded from a soft polyurethane plastic with the internals positioned within the plastic as it sets.
Picture
Needs
Specifications
Design Features

Compact design suitable for storage
Accommodates tubing and other necessary internals
Possible to mold using silicon
Contains a receptacle for a medication bottle

Fits 95% of hand sizes
Requires no more than 10 seconds of hands-on observation to learn proper use

Simple shape keeps other components in place
Interior flanges keep button from dislodging
Tube stays open (no kinks) within the component

Holds the eye open during use
Doesn't leak medication
Possible to mold using silicon
Activates the pump

Contours to >99% of human faces
Fits standardized bottle sizes and nozzles

Moving eye cup aids in keeping the eye open during use
Contours with the interior of the handle piece
Large surface area makes it easy to press the button

The nozzle must spray or mist
The nozzle, pump, and piping must connect as one piece
The nozzle, pump, and piping must fit within the casing

Fixed diameter tubing - 1/16" fuel line
Dispenses 0.05 mL with 0.0025 mL tolerance (5%)
95% of medication enters eye

Pump delivers a steady and fine spray
Receiving end allows medication bottle to screw in
Pump requires minimal force to press
Current Design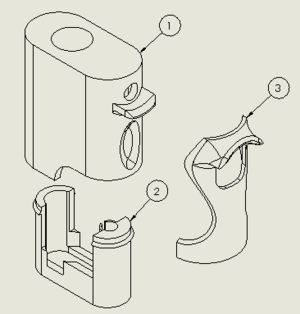 Our current design is a modification of a previous model which can now be molded with polyurethane and silicon. An experimental mold has been completed as a proof-of-concept. The mold template was prepared using a 3D print of this design.
The design consists of multiple components:
A casing that holds the rest of the components in place
A button piece that slides into the casing, actuating the pump
A pump that delivers a mixture of air and fluid to the nozzle
A nozzle that delivers a fine and consistent spray (not shown)
Contouring part that fits against the face (not shown)