General Purpose Power Electronic Converter
From Mindworks
Cilent

Dr.Ash Thakker and Dr.Freeman Rufus

Team Name
Power-panda
Duration
Spring 2018 - Fall 2018
Faculty Instructor
Faculty Advisor




Team Members

Zhongdi Wang
Yi Yang
Xinyu wu
Lyle Lair
Create a control algorithm to integrate four each 15kW units to function as a continuous 60kW unit.
Problem Definition
[
edit
]
Background
[
edit
]
The forward converter is a DC/DC converter that uses a transformer to increase or decrease the output voltage and provide galvanic isolation for the load. With multiple output windings, it is possible to provide both higher and lower voltage outputs simultaneously.
Design Goal
[
edit
]
Create a control algorithm for an intergraded converter(consists of 4 individual converters).
Specifications
[
edit
]
100W each converter
12-36V input , 24V output
4 converters total , DC-DC
The intergraded converter should provide 400 W power, and the efficiency should be equal or higher than 94%.
Project Learning
[
edit
]
Advantages of Using LT8310 1 We can avoid some defects of the first version
2 Some of ECE 427 students have used this chip
3 High efficiency and short-circuit overcurrent protection
4 Easily Available
Designs
[
edit
]
Circuit of Forward Converter
Calculation Part

Simulation Results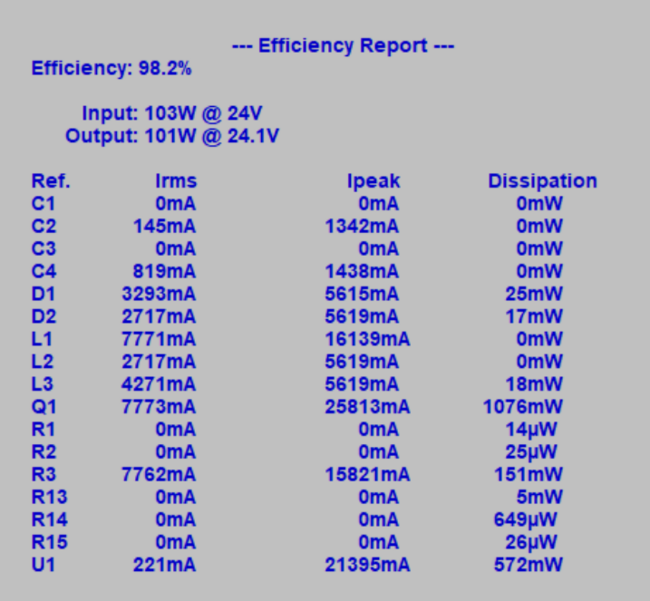 Design Procedures
[
edit
]
1 Choose some types of DC-DC converters

         (Forward & Full Bridge)

2 Connect the circuit and run
3 Make Simulation of Converters
4 Do some calculations about efficiency
5 Create Control Algorithm to find the highest efficiency
Project Budget
[
edit
]
Team Information
[
edit
]
Zhongdi Wang:

Major: Electrical Engineering
Graduation Date: December 12, 2018
Hobbies: Boating, Carpentry, Skiing, Raising Honeybees and Chickens, Camping, Family time
Email: wang7911@vandals.uidaho.edu
Responsibilities: The organizer of meeting and project leader


EE

Yi Yang(Rina):

Major: Electrical Engineering
Graduation Date: December 12, 2018
Hobbies: Movies, Listening to Music, Eating
Email: yang1309@vandals.uidaho.edu
Responsibilities: Budget and Documents


EE

Xinyu Wu(kobe):

Major: Electrical Engineering
Graduation Date: December 12, 2018
Hobbies: basketball, eating, Listening to Music
Email: wu2272@vandals.uidaho.edu
Responsibilities: Wiki Manager


EE

Lyle Lair:

Major: Electrical Engineering
Graduation Date:

Hobbies:

Email: lair0186@vandals.uidaho.edu
Responsibilities: The primary client contact and Project vice Leader


EE
Document Archive
[
edit
]
Other Documents
[
edit
]
Content of meeting
[
edit
]
[4] [5] [6] [7] [8] [9] [10] [11]
Project Schedule
[
edit
]
Design Report
[
edit
]
Final Presentation
[
edit
]