Handheld Scatterometer
[[File:

|300px|center|alt=]]
Sponsors
K2 BioMicrosystems LLC.
Team Name
Optobots
Duration
Fall 2018 - Spring 2019
Faculty Adviser/Mentor
Client

David Klemer / K2 BioMicroystems LLC.

Team Members

Jeremy Cram
Kodi Cumbo
Jeremiah Rodgers
Weihang Wang
Problem Definition
[
edit
]
We aim to design a self-contained, portable instrument for measuring and quantifying the turbidity of a solution over time by measuring the light scattered from the solution.
Background
[
edit
]
Optical scatterometry (otherwise known as turbidimetry or nephelometry) is a common way to determine the concentration of a contaminant, such as bacteria or proteins, in a solution. The nephelometry method detects the concentration of the solution by analyzing the amount of light that is scattered 90° to a laser shined into the solution, while turbidimetry measures the concentration using detectors 180° from the laser. Nephelometry is better used for low concentrations, while turbidimetry is better suited for high concentrations. These techniques requires expensive machinery that is not always portable, or user friendly.

Deliverables
[
edit
]
Specifications
[
edit
]
Handheld

Touch Screen

Wireless Charging Battery

Durable

Production model Less than $200

Applications
[
edit
]
Medical Clinics

Point of Care: Negates need for central lab
Affodable/Portable: Use in small clinics or developing countries
Fish and Wildlife
On-site measurements: Stream/groundwater contaminant check
Ease of use: Minimal training required
Design Considerations
[
edit
]
Single PCB vs. Multiple PCB's
For initial testing we are using multiple PCB's, one for each photodiode and for the laser diode. However there are size constraints to consider and the three PCB's may be consolidated to one if it will save space.
Laser Module vs. Laser Diode and Lens
A laser module would be easier to install, because it has the lens built in, however the laser diode and external lens will have a greater degree of accuracy when installing. For this reason, we have chosen to use the Laser Diode and external lens.
Project Learning
[
edit
]
PhotoDiode Amplification Circuit
[
edit
]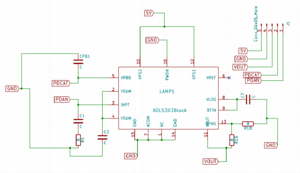 In order to amplify the current provided by the photodiode, a logarithmic amplifier will be used in order to normalize the values given by the photodiode. The chosen Logarithmic amplifier is the Analog Devices ADL5303. Using the shown schematic a PCB was created.
Laser Diode Circuit
[
edit
]
The laser diode needs an amplification circuit and protection circuit in order to drive the laser at a specified light and to protect the laser diode from being damaged due to over voltage or over current. The IC-WJ laser driver chip has been chosen due to its watchdog protection circuitry.
Cuvette Holder
[
edit
]
The cuvette, which will hold the solution, will be placed in a 3D printed cuvette holder. The cuvette holder will have a hole in each side, to place 3 photodiodes and a laser diode into. All designs were done in TinkerCad. Several prototypes were made at University of Idaho facilities, before a final cuvette holder was printed from Shapeways. This design for a cuvette holder will be incorporated in the final design when a larger container will be 3D printed to hold all of the designed electronics.
Final Design
[
edit
]
Validation
[
edit
]
Team Information
[
edit
]
Picture
Info
Bio

Jeremy Cram:

major: Electrical Engineering
email: cram8654@vandals.uidaho.edu

Jeremy Cram is a student in Electrical Engineering hoping to pursue a career communication networks/systems in western America.

Kodi Cumbo:

major: Computer Science and Electrical Engineering
email: cumb0597@vandals.uidaho.edu

Kodi Cumbo is a Computer Science and Electrical Engineering student with an interest in embedded systems. He plans to pursue a related career in the Puget Sound area after graduation.

Jeremiah Rodgers:

major: Electrical Engineering
email: rodg6430@vandals.uidaho.edu

Jeremiah Rodgers is an Electrical Engineering student with an interest in acoustics and signal processing. He plans on working for NavSea in Keyport, WA after graduation.

Weihang Wang:

major: Electrical Engineering
email: wang4957@vandals.uidaho.edu

Weihang Wang is a student in Electrical Engineering with an interest in power system.He is hoping to pursue jobs in electrical company.
Additional Documentation
[
edit
]
Project Planning
[Team Contract]
[Product Requirements]
[Project Schedule]
[Budget]


Meeting Minutes
[September 11, 2018]
[September 20, 2018]
[September 27, 2018]
[October 4, 2018]
[October 11, 2018]
[October 18, 2018]
[October 25, 2018]
[November 1, 2018]
[November 8, 2018]
[November 29, 2018]

Presentations
Client Interview