Infection Prevention Urinary Catheter
Sponsors
Team Name
Infection Protection
Duration
Fall 2018 - Spring 2019
Faculty Adviser
Mentor
Client
Team Members

Ed Hall
Amy Macias
Elena Tipton
The goal of the project is to design and develop a urinary catheter that can reliably reduce the incidence of Catheter-Associated Urinary Tract Infections (CAUTIs).
Problem Definition
[
edit
]
Background
[
edit
]
Catheter-Associated Urinary Tract Infections (CAUTI)
CAUTIs are the most common type of nosocomial (hospital-related) infection. About 23% of patients in US hospitals require the use of a urinary catheter. The risk of acquiring a CAUTI increases by about 3-7% each day that an indwelling urinary catheter remains inside the patient.

Value Proposition
[
edit
]
Improving and saving lives by comfortably and effectively preventing catheter-associated UTI's, the #1 leading cause of nosocomial infections. This new bacteria-flushing catheter will be an innovative approach to the current designs on the market and will reduce the incidence of infection of all catheter users compared to current products.​
Deliverables
[
edit
]
Design and develop a fully functioning urinary catheter that demonstrates irrigating ability, sufficient drainage, along with various other product specification requirements presented below.
Specifications
[
edit
]
The catheter shall allow for quick and easy insertion, anchoring, and removal. The anchor shall deploy once inserted in the bladder. At no point prior to removal shall the catheter slip from the bladder due to an anchor failure. Upon removal, the anchor shall be quickly and carefully released, leading to a smooth catheter withdrawal.​
The design must employ a mechanism which will allow solution/antibiotics to be pumped through the catheter to flush out the bladder and the urethra in order to prevent bacteria from building up, and consequentially causing an infection. Additionally, there must be a port and channel with the ability to connect/disconnect to a pump or syringe system which will be used to inject the system-flushing fluid.
Project Specifications
Design Area
Specification
Design Metrics

Design must have a scalablity range of 12-26 Fr (1 Fr = 1/3 mm).
Design should support a urinary flow rate of 4 mL/s or more.

Patient Metrics

Including the time to carefully anchor the catheter within the bladder, insertion should take 45 seconds or less.​
The Coefficient of friction between the outer catheter surface and urethra tissue should be 0.2 or less.
Design Considerations
[
edit
]

Project Learning
[
edit
]
Viable Designs
Concept
Advantages and Disadvantages
Embedded Spiral

Pros:​

No change to traditional profile​
Same procedure for insertion/removal​

Cons:​

No space creation for fluid flow​
Requires higher pressure for irrigation fluid discharge​
Increased difficulty of manufacturing

Outer Spiral

Pros:​

Creates space for fluid to flush urethra​
Only one irrigation point at top​

Cons:​

Possible discomfort to patient​
Added surface area for bacteria growth
Displeasing profile​ which may be more difficult to market
Final Design
[
edit
]
Validation
[
edit
]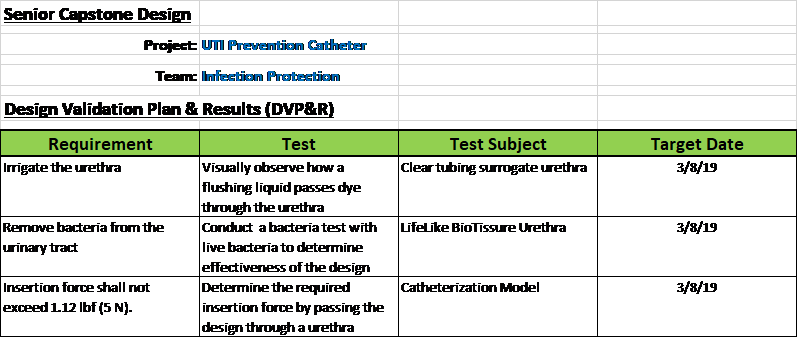 Team Members
[
edit
]
Ed Hall

Major: Mechanical Engineering
Hometown: Chugiak, Alaska
Graduation Date: May 2019
Future Goals: Ed aspires to engineer green solutions to problems that will have positive effects on both the world and the people in it.
Email: hall2189@vandals.uidaho.edu





Amy Macias

Major: Biological Engineering
Hometown: Nampa, Idaho
Graduation Date: December 2019
Future Goals: After completing her undergraduate degree, Amy hopes to ultimately start a career innovating medical equipment to keep up with the ever changing modern world.
Email: maci8945@vandals.uidaho.edu





Elena Tipton

Major: Mechanical Engineering
Hometown: Fruitland, Idaho
Graduation Date: May 2019
Future Goals: After graduation, Elena will start her career working as an engineer for Hewlett-Packard.
Email: tipt4166@vandals.uidaho.edu




Additional Documentation
[
edit
]
Project Schedule
[[File:]]

Meeting Minutes
[[File:]]

Presentations
File:2018 IPUC PreliminaryPresentation.pdf
File:2018 IPUC ConceptDesignReview.pdf
[[File:]]
[[File:]]


Client Interview
[[File:]]