Infrasonic Wildfire Detector
Jump to navigation
Jump to search
[[File:[[File:|thumb|300px|left]]|300px|center|alt=]]
Sponsors
Joe Stanley
Team Name
FireWatch
Duration
Fall 2020 - Spring 2021
Faculty Adviser
Dr. Herb Hess
Client
Joe Stanley / Stanley Solutions
Team Members

Carlos Santos
Cory Holt
Drew Malinowski
Meridian Haas
The goal of the project is to create a MESH Network of Infrasonic Wildfire Sensors.
Problem Definition
[
edit
]
Wildfires ravage through the forests and destroy ecosystems and economies, yet still, our best means of detection is by seeing and smelling smoke. The ability to provide a signal to firefighting services when the fire is still small could save countless homes and wilderness areas. In order to modernize this detection process, we propose a device that uses infrasonic detection and signal processing to detect wildfires. Our aim is to set up a mesh network of smart nodes and dumb nodes that can detect infrasound waves (0 – 20 Hz) and communicate this information wirelessly. This technology has the potential to drastically improve our ability to mitigate wildfires by allowing us to detect the problem sooner.
Background
[
edit
]
Wildfires produce a sound signature in the infrasonic range.
Detecting sound in that frequency indicates the presence of a wildfire.
Cheap communication electronics has made it possible to create a distributed sensing network.
Affordable and resilient sensors for infrasound are now a possibility.
Deliverables
[
edit
]
3 sensor devices, capable of detecting infrasonic sound waves and networking with each other and the internet.
Specifications
[
edit
]
Detect infrasonic sound waves.
Creates a mesh network of similar devices to transmit fire status.
Has a rugged enclosure capable of surviving drops and impacts, as well as surviving the elements.
Design Considerations
[
edit
]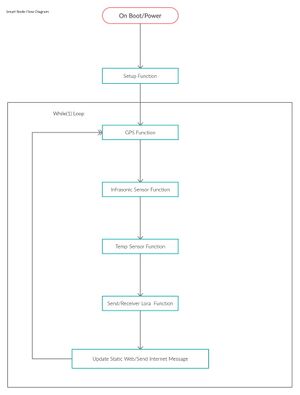 Project Learning
[
edit
]
Final Design
[
edit
]
In Progress.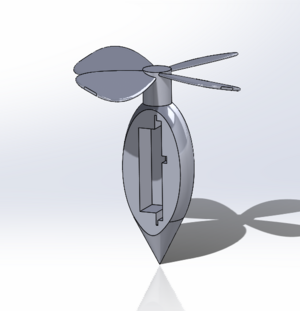 Validation
[
edit
]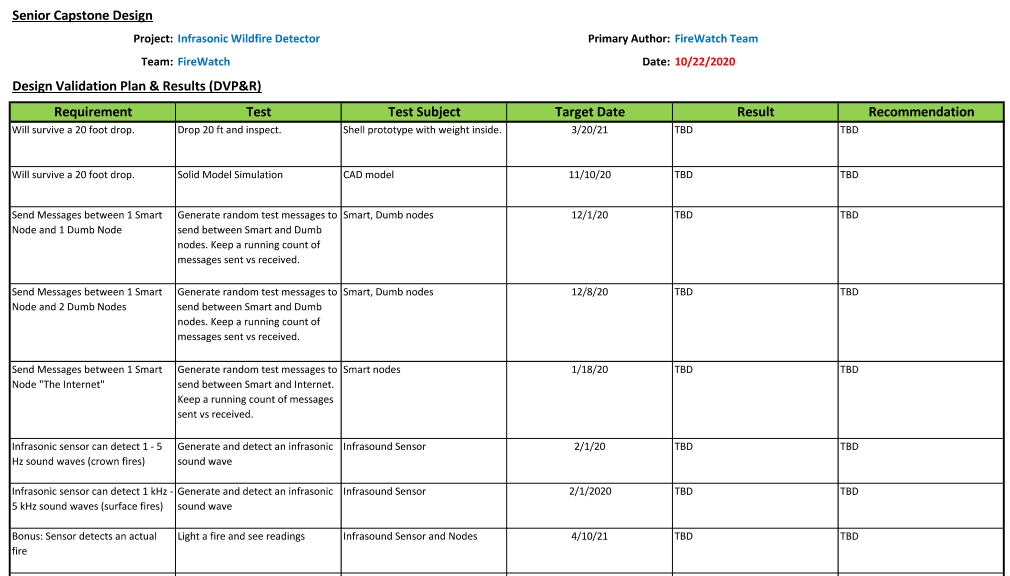 SolidWorks Simulation Performed

5N load on sharp end of object

Notice stress concentrations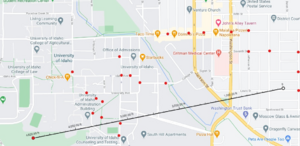 LoRa GPS Test

Red dots where packets were received
1 mile range for line of sight
Team Members
[
edit
]
Name: Meridian Haas
Major: Mechanical Engineering
Hometown: Colorado Springs, CO
Responsibility: Mechanical Design
Email: haas7000@vandals.uidaho.edu





Name: Cory Holt
Major: Electrical Engineering
Hometown: Jerome, ID
Responsibility: uController programming
Email: holt3393@vandals.uidaho.edu





Name: Andrew Malinowski
Major: Electrical Engineering
Hometown: Boise, ID
Responsibility: Infrasonic Sensor - Signal Processing
Email: mali3036@vandals.uidaho.edu


Name: Carlos Santos
Major: Computer Engineering
Hometown: Jerome, ID
Responsibility: MicroController and Programming
Email: port3116@vandals.uidaho.edu




Additional Documentation
[
edit
]
Project Schedule
File:2020 infrasonic wildfire detector schedule v1.pdf
File:2020 infrasonic wildfire detector schedule v2.pdf

Meeting Minutes
File:2020 infrasonic wildfire detector meeting minutes V1.pdf
File:2020 infrasonic wildfire detector meeting minutes V2.pdf

Presentations
File:2020 Infrasonic wildfire detector snapshot 1.pdf
File:2020 Infrasonic wildfire detector snapshot 2.pdf
File:2020 Infrasonic wildfire detector concept design review.pdf

Client Interview
File:Client Interview Firewatch2020.pdf
Hardware Datasheets & Description Sheets
File:2020 infrasonic wildfire detector NEO-6 DataSheet (GPS.G6-HW-09005).pdf
File:2020 infrasonic wildfire detector U-blox6 ReceiverDescrProtSpec (GPS.G6-SW-10018) Public.pdf
File:2020 infrasonic wildfire detector SX1278 datasheet.pdf
File:2020 infrasonic wildfire detector APX192 Enhanced Single Cell datasheet en.pdf