Marching Band Triangles
Jump to navigation
Jump to search
The University of Idaho Marching Band will have a new addition to their halftime performances from this point forward, musical triangles. The Mechanical Engineering Capstone group, Pressure Angles has designed and manufactured musical triangles for each band member which feature flashing lights coming from our thoughtfully designed handle that will light up upon being struck. This project incorporates the design, manufacturing, and fabrication of: jigs, musical triangles, chimes, handles with internal circuitry and LEDs, and a sling allowing each band member to keep this rhythmic surprise hidden until they are ready light up the stadium.
Problem Definition
[
edit
]
Background
[
edit
]
The Marching Band has been featured with many capstone projects like the Bandbeesten for many years. But this year, 2019 the Marching Band director Spencer Martin had the idea of bringing the musical triangle back to life. Musical triangles aren't new to the marching band, but their high cost made it difficult to justify implementing them with each member of the band.
The triangles were decided to be made out of constructional rebar to cut cost without sacrificing sound. Mr. Martin wanted the triangles to have some flair so he envisioned a triangle that would have lights that would flash upon hitting the triangle with the chime. To house the electronics and protect them Pressure Angles decided to design a handle for the triangles that would incorporate an ergonomic fit, all of the necessary electronics. Working with Dr. Robert Rinker, Associate Professor and Associate Chair of the Computer Science Department we were able to receive guidance with prototyping the electrical components that go into creating this light emitting response.
With the help and guidance of Dr. Matthew Swenson, Dr. Edwin Odom, Dr. Steven Beyerlein, and Graduate Student Selso Gallegos we were able to develop the handle design to meet all criteria Spencer had in mind while remaining sleek and robust. With the help of the advisers above and machine shop manager Bill Magnie our team was able to developer a jig to create consistently sized triangles to make sure each sounded the same.
Deliverables
[
edit
]
The Band Department, led by Spencer Martin, asked the Mechanical Engineering Department to create musical triangles for each band member. The triangles themselves are made out of rebar, and will be held with our custom handles specially designed to house a battery, LEDs, and a sensor that can pick up vibration from contact with the chime to signal the lights to turn on. It is important that each band member can remove and stow the triangle and its components swiftly during performances.
Specifications
[
edit
]
By the end of the project Pressure Angles will have designed, manufactured, and fabricated 150 triangle packages. Each package consists of a triangle, handle with functioning electronics, chime, and a holster for everything to fit in.
Design Considerations
[
edit
]
Goals
Requirements for Handle
Ergonomics/Style
Test jury, Spencer Martin, must approve final handle design fit and ergonomics to ensure it is comfortable and fit any size of hand
Spencer must also approve the overall look of handle as some Triangle packages will be given as gifts at performances
Handles must have logos for the College of Engineering and Lionel Hampton School of Music
Durability
Electronics must be housed internally and must have redundancy to keep in place
Triangle to handle connector must also be redundant and have at least two means of connection
LEDs must be protected from wear and tear of band equipment
Electronics
Piezo sensor must be removable from triangle
System must have battery switch operated by user before and after use
LEDs must be visible from stands when in use
Batteries must be rechargeable
Goals
Requirements for Triangles
Dimensions
Rebar will be cut to the same length for each triangle
Using a jig in manufacturing, angles of triangle must be consistently 120°
Hard edges will be ground down as needed
Orientation
handle orientation must be 90° off of the orientation from the triangle
Smooth side of rebar must be vertical to optimize play
Goals
Requirements for Stowable Triangle Pouch
Style
Pouch must match well with Marching Band outfits
Must be sleek and not be an eye sore for audience
Function
Pouch must be easy to access triangles
Must not hinder performers in any way
Must hold entire triangle package
Must be robust and allow for simple maintenance
Project Learning
[
edit
]
Design 1
[
edit
]
We decide early on that laser cutting wood would be the best way to get quality handles that could be massed produced. This first design we came up with had the idea of using three fingers to hold with housing for the battery and circuitry. The circuitry would have surface mounted LED lights on the front of the circuit board. During a meeting with Spencer Martin (director of the marching band) he gave us these pros and cons.
Pros of design 1
[
edit
]
The handle feels like it is supposed to and is easily held
Cons of design 1
[
edit
]
The triangle would be oriented the wrong way
The handle is held perpendicular to the body so the lights would not face the audience.
The handle is only held with two fingers and with this design can easily dropped.
Things to improve
[
edit
]
Need new way to mount connector
Need new way to mount lights
Want more secure grip
Design 2
[
edit
]
| | |
| --- | --- |
| | The Second and third design were made at the same time to solve how the connector would be attached design 2 was made to weave connector through to orient triangle in the correct manner. This design worked but was brittle and hard to attach connector so design 3 was chosen. |
Design 3 & 4
[
edit
]
Design 3 features ideas of LED light strip instead of surface mounted lights along with a new secure grip and using a press fit with a hole for the connector to fit the correct direction. Design 4 was made as an idea so the LED lights could still be surface mounted to give options to Dr. Bob Rinker who was making the circuitry. After meeting with Bob Rinker, Matt Swenson, and Spencer Martin they gave us these pros and cons.
Pros Design 3
[
edit
]
Bob Rinker said that the LED strip lights would work on the outside
Less glue was needed
Triangle hangs correctly
Spencer liked the pinch grip more
Pros Design 4
[
edit
]
Easier to add lights
Triangle hangs correctly
Easy to mount board and battery to handle
No wires
Cons Design 3
[
edit
]
No good way to connect circuit board and battery to handle
Nowhere for the wires of the sensor to fall down to triangle
More wires hanging
Cons Design 4
[
edit
]
Hard to store
Takes lot of glue
Easy to break
After our meetings the base outline of design 3 was chosen to improve upon by.
Making a way to mount board and battery to triangle
Add a way to house sensor wires
Design 5
[
edit
]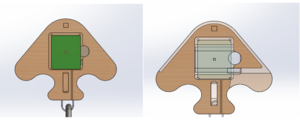 From design 3 we added some extra features to make assembly easier
Added an anchor plate to attach circuit board and battery to
Added a channel for the peizo wires to be housed
Add another press fit to top of design to eliminate glue.
After design 5 was made we discovered that the circuit could not be put in whole so one more modification was made to remove a section of the middle plate. So entire Circuit could be implanted to fully assembled handle.
Final Handle Design
[
edit
]
In the final design came from how to attach sensor to the triangle this was to be done with a magnet glued to sensor and attached to the triangle. There was also one magnet attached to the Triangle in order to store the piezo. This made the handle removable but it severely damped the sound. So the sensor was moved to be on the striker. The final addition was to add a second magnet on the handle so the Striker could be stored on the handle.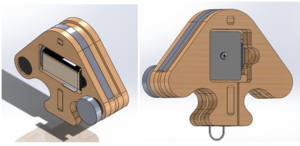 Final design Features
[
edit
]
Led Strip lights
Fully kitted
Easy grip handle
Pattern customizable
Easley repairable
Easley manufactured
Sensor Connection
[
edit
]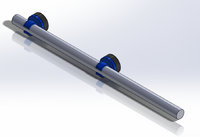 Initially this was to be the simple most straight forward part of the project it was decided early that a magnet was going to be used to attach the sensor to the triangle. This should have been tested early on in the project. When the sensor was attached the sound was severely dampened to the point of very limited sound. This was not discovered until the last week of the dead line. The solution was to move the Sensor to the Striker and use magnets to attach the striker to the handle. Using glue to do this did not stick well to the Stainless steel so clip where made using a 3D printer to give a better surface for gluing.
The biggest problem we have is the steel rods we ordered are not magnetic we got alloy 303 when we needed 304 or 316 this sets us back in making all the strikers but using www.midweststeelsupply.com cut parts can be ordered.
Triangle
[
edit
]
The dimensions of the triangle are key to the sound the first diminutions used for the triangle were 7.35" sides this ended up being too large and hard to reproduce. So in order to make them repeatable the sides were down sized to 7.16". This did not affect sound quality and made them easier to make. an important piece of this is to be able to manufacture the same triangle 150 times. To do this constant improvements are being made to the jig in order for it to be Consistent. we started with a simple just just to bend the rebar around this worked to make a constant length but the rebar would slide around. to fix this thumb screws were added to hold it in place. then stoppers where put into place to get the correct angle.
Design 1
[
edit
]
| | |
| --- | --- |
| | The original design for our triangle belts was to use a pouch for the entire assembly to fit into. Much like the pouch that came with the triangle we wanted this to hold all accessories and components for band members to carry on a satchel as well as double as long term storage. We changed the closure on the pouch from a zipper, to a magnet, and then to velcro. Each closure came with its own issues, but we eventually learned that the pouches were too difficult to keep from swaying when walking with them. |
Design 2
[
edit
]
| | |
| --- | --- |
| | For the next iterations of the belt we wanted something that allowed the triangle and handle to be removed with few movements, that didnt sway during use as much. We came up with something that allowed the triangle to slide into a holder, and the handle into a separate pocket.This design worked really well, but removing the triangle from the belt material was difficult, and the pocket for the handle was either too loose or too tight. We made a few more design changes and developed our third design. |
Design 3
[
edit
]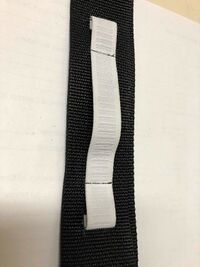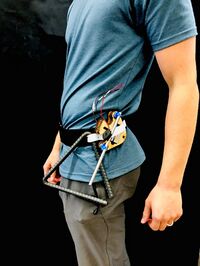 In this final design, we used an elastic material for the triangle leg to slide into, and the handle is held in from the pressure of the elastic being stretched. We found this prevented the triangle from moving during use, and was very simple to sew, which was desirable because we are making 150 belts.
Final Design Features
[
edit
]
Buckle is fixed on the users left side
Belt can be used on left and right side depending on users preference
Involves only two materials and thread
Simple to manufacture
Easy to remove and stow triangle assembly into holder on belt
Final Design
[
edit
]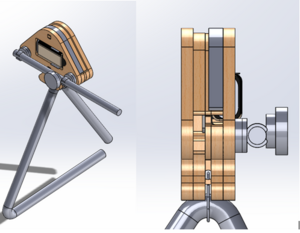 The final product is an assembly of three different assembly's and two parts being:
Handle assembly
Sticker assembly
Triangle
Connector (zip ties)
Belt
The product features assembly's that are easily putt together for fast manufacturing while being simple enough it can be taught to anyone. The handle is designed to be able to take some impact and still function by housing all electronics in the handle. The sensor is also connected in a way using a magnet that the sensor will disconnect when dropped instead of breaking the wires. The switch is positioned on the circuit board so it is easily accessible even with gloves on. All of the assembly fit snugly in the belt with an easy two step access to surprise the audience quickly and effectively. When not in use all parts can be stored separately until next use.
File:Speifcatons of final assembly .pdf
Team Members
[
edit
]
| Photos | Bio | Discipline |
| --- | --- | --- |
| | Faris Alamri: I am currently senior student in Mechanical Engineering at the University of Idaho, from Jeddah, Saudi Arabia, graduating in August 2019. My goal is to start my career in the Oil and Gas Industry. | ME |
| | Abdullah Bahattab: I am graduating in Mechanical Engineering at the University of Idaho in August 2019. I am from Jeddah, Saudi Arabia, and I hope to return and start my career in Systems Design. | ME |
| | Brock Baughman:I am currently a senior Mechanical Engineering student at the University of Idaho. I grew up in Coeur d'Alene, ID. After graduation I hope to start my career in research and development or design. | ME |
| | Bryce Dinger: I am graduating this August with a bachelors in Mechanical Engineering and Renewable Materials. I grew up near Seattle and when I am done with school I plan on moving back to the area to work in product design. | ME & RM |
Additional Documentation
[
edit
]
Project Schedule
[[File:]]

Budget
File:Pressure Angle Budget .pdf

Meeting Minutes
File:Team Meeting Mintues.pdf
File:Team Meeting Agenda.pdf


Presentations