Synthesized robotic manufacturing cell
Jump to navigation
Jump to search
Welcome to Robo-shop
[[File:

|300px|center|alt=]]
Current State of Cell
Sponsors
Team Name
RoboShop
Duration
Summer-Fall 2019
Lead Instructor
Faculty Adviser
Mentor
Client
Team Members

Salem Alhajri
Brad Hummel
Joshua Kohl
Mohamed Alessa
The goal of the project is to incorporate two robots in one miniature assembly line, in order to make a product involving operations that include part manipulation, barcode scanning, and fastening a screw.
Problem Definition
[
edit
]
Background
[
edit
]
2013-2014 In Spring 2013 The Boeing Company donated DENSO robotic arms to The University of Idaho College of Engineering. That fall Mechanical and Electrical Engineering students, as a part of Team Roboshow, were tasked to learn basic programming of the robotic arms and create a work-cell for the arms. Their work-cell incorporated multiple safety features as well as a clear poly-carbonate enclosure for public demonstration. The team was able to successfully program the robot to use a dry-erase marker to create logos and patterns on a white board.
Summer-Fall 2016 During the Summer and Fall of 2016 Do All Robotics completely redesigned the robotic manufacturing cell. They made the cell larger which allowed for operators to have easier access to the robots for things like maintenance or changing end effectors. They also made the work cell fully modular allowing future teams to rearrange the cell for their specific needs. New pedestals for the robots were also designed because the originals were very unsteady. The team also performed stress analysis on the new pedestals to ensure they wouldn't break or fall over during operation. The team also programmed the robots to do tasks such as stack cups and write with a marker on a board. Finally the team also created a simple beginners manual that included all the basics needed to run the robot.
Summer-Fall 2017 The next year, the design team for the Robotic Arm Manufacturing Cell, Team CSRM, integrated a simple vision system involving a scanner, so that the arms could sort through two varied parts. These parts, a rectangle and a hexagon, were created by the team members, as well as the fixtures these parts were based in. Their process involved one of the robotic arms picking up pieces from a randomized mixture, then scanning the object to sort between the two. To pick the objects up, the robot used a pneumatic gripping mechanism.
Summer 2018-Fall 2018 The group that worked on this period were made of four Mechanical Engineering, and the name of the group is CyberCrew. There goals for there project is to integrate the two robots to work together in one assembly line, and create an assembly line that combine two female and male parts together. they made the two robotic arms work together in one assembly line, their assembly line were to make the first arm grab the part, and then scan that part. after the scanning, the arm will put female part first in a specific area, and then the same arm grabs the male part and put it above the female part. the Second arm will use pressure power to combine the two parts together.
Picture
Description

Current State of the cell.
Robots equipped with past groups end effectors for their task.
Client Needs
[
edit
]
Our client is Ankit Gupta, the professor for the industrial automation class. Working on this project could inspire future assignments for the class, as well as requests for perhaps even more progression for students to learn about these robotic arms. This will enable enhancements to improve the class. As the request for this specific project, we are tasked to integrate the two arms into one manufacturing process. Other requirements involve using a scanner to determine the shape of the object being scanned. In order to perform the required manufacturing process, unique end effectors and fixtures will be designed, which will be available for future students.
Deliverables
[
edit
]
Incorporate two robots in one manufacturing process
Design and construct different shaped parts
Design and construct an end effector to grab and move all the different shaped parts
Design and construct an end effector to hold a torque screwdriver
Use torque screwdriver to fasten a screw into all parts
Use a scanner to sort different shaped parts
Flow Chart
Insert Flow chart here
User does set-up tasks
Robot #1 will pick-up an object
Robot #1 will scan picked object
Robot #1 will place object in its specific spot in the template
Robot #2 will pick-up screw from yet to be designed place with magnetic tipped drill bit on torque screwdriver
Robot #2 use torque screwdriver to fasten screw into object
Robot #1 will pick-up object
Robot #1 will place object onto conveyor belt
Repeat for next 2 objects
Specifications
[
edit
]
User Interface Requirements: The assembly must be self-functioning, or automated. The only user involvement shall be to start the process. In case of malfunction, emergency stop switches are in place: one on each controller and one on the outside of the cell.

What it should do: This is an automated assembly line, where the two robotic arms communicate with each other via TCP/IP protocols to complete a task. The first robot utilizes a gripper to grab objects and scans them over the bar code to identify their shapes. Once identified, the objects will be placed in their specific location, the same robot will also grab screws and place them on the objects. The other robot will utilize a screwdriver to fasten the screws.
for further specifications, see Product Requirements: [[ http://images.shoutwiki.com/mindworks/2/29/RoboShop_Product_Requirements.pdf]]
| Device | Specification | Variable limit |
| --- | --- | --- |
| Robot arm #1 | Fixture Mass | 5 kg |
| Robot arm #1 | Gripper Pressure | .39 MPa |
| Robot arm #2 | Fixture Mass | 5 kg |
| Robot arm #2 | Screwdriver Pressure Applied | 2.5 kg |
Design Elements
[
edit
]
FIXTURES:
| Picture | Discription |
| --- | --- |
| | The template is 2" x 2" and 1/2" thick. The extruded part is 2" tall and a 1/4" x 1/4" square. There is a 1/4" x 1/4" x 1/4" square cut out of the bottom to place on a peg so we can guarantee screw hole locations. |
| | The Circle is a 3" Diameter with the extruded part being 2" tall and a 1/4" x 1/4" square. There is a 1/4" x 1/4" x 1/4" square cut out of the bottom to place on a peg so we can guarantee screw hole locations. |
| | The octagon has a side length of 1 1/4". The extruded part is 2" tall and a 1/4" x 1/4" square. There is a 1/4" x 1/4" x 1/4" square cut out of the bottom to place on a peg so we can guarantee screw hole locations. |
END EFFECTOR:
Gripper Lips for arm#1 to grab objects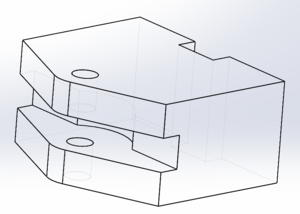 TOOLING:
Picture
Description

Bosch Electric Screwdriver, Autoday 3.6V Smart 6 Modes Adjustable Torques
Cordless Rechargeable Screwdriver Tool Kits
(picture from Amazon)

GO 4-Volt Max Lithium-Ion Cordless Screwdriver
with USB Charger and Insert Bits
(Picture from home depot website)
TEMPLATE:
Picture
Description

Current template design to hold 3 different shaped objects.
Template used so objects are in specific orientation for robot #2 screwdriver.
FASTENER:
| Picture | Description |
| --- | --- |
| Coming soon | Fastener not chosen yet |
Validation
[
edit
]
| Test needed to perform | Description |
| --- | --- |
| Torque | We will need test/calculate of much torque we will need to fasten the screw into the objects. |
| Torque screwdriver Pressure | We will need to test how much pressure is needed to apply to the screwdriver in order to achieve the calculated torque. |
| Robot Arm #2 | We will need to calculate the total weight we are putting on the end of Robot Arm #2 in order to ensure that the 5 Kg weight limit is being met. |
Final Design
[
edit
]
Team Members
[
edit
]
Picture
Info

Name:Josh Kohl
Major:Mechanical Engineer
Hometown:Carreywood, Idaho
Responsibility:Team Member
Email:Kohl1461@vandals.uidaho.edu


Name:Brad Hummel
Major:Mechanical Engineer
Hometown:Pasco, Washington
Responsibility:Team Member
Email:humm7394@vandals.uidaho.edu


Name:Salem Alhajri
Major:Mechanical Engineer
Hometown: Kuwait
Responsibility:Team Member
Email:alha3966@vandals.uidaho.edu


Name:Mohammed Alessa


Major:Mechanical Engineer
Hometown: Dammam, Saudi Arabia
Responsibility:Team Member
Email:ales9576@vandals.uidaho.edu

Additional Documentation
[
edit
]
Project Schedule
Gantt Chart: File:GanttRoboshop.pdf
Product Requirements: images.shoutwiki.com/mindworks/5/54/Product_Requirements_RoboShop.pdf

Meeting Minutes
[[File:]]
[[File:]]
[[File:]]
[[File:]]
[[File:]]
[[File:]]
[[File:]]
Presentations
[[File:]]
[[File:]]
[[File:]]
[[File:]]


Client Interview
[[File:]]