Tote Extractor
Sponsors
Bastian Solutions
Team Members
David Kennedy
Aaron Burton
Braden Sprenger
Daniel Sorenson
Duration
Fall 2018 - Spring 2019
Faculty Advisers
Dr. Steven Beyerlein
Mentor
Mathew Harnard
The goal of this project is to improve on a current tote extractor design. By doing this, grid efficiency can be improved as well as the footprint of the current automated extraction system will be reduced.
Background
[
edit
]
Current Shuttle
Currently, Bastian Solutions has an automated shuttle extraction system with the extractor mounted in the center of the shuttle. This design takes up a significant amount of space and can be improved upon.
Design Task
[
edit
]
Problem Statement
Study and prototype a cantilever tote extraction system to reliably pick and place storage totes with prescribed speed and accuracy. The solution will also involve engineered features for interfacing with the with the existing tote bin design.
Requirements
Prototype capable of engaging tote
Prototype capable of removing tote
Shuttle must be able to travel while carrying tote
Prototype capable of replacing tote
Build model of shelf and tote for testing
Improve current grid space footprint
Design Specifications
[
edit
]
Specifications
| | |
| --- | --- |
| Height Limit (Shuttle Base) | 25 inches |
| Width Limit (Folded Position) | 30 inches |
| Length Limit | 30 inches |
| System Weight Limit | 40 pounds |
| Extraction Time | 3 seconds |
| Voltage Requirement | 48 VDC |
| Material Costs | $2300 |
| Durability | 20-30kh of operation without maintenance |
Manufacturing Process
[
edit
]
Shelf Model
Shelf model has been built in order to properly prototype extraction mechanism.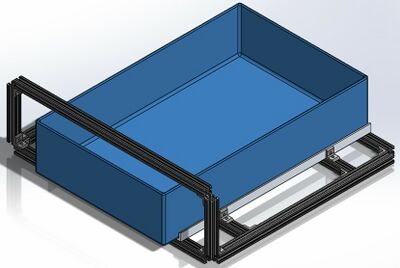 Final Extractor Design
The final design will use two gears actuated by two pinion gears mounted on a shaft driven by a stepper motor to fold up the extraction tray. The extraction tray will slide out either end 2 inches when in the down position to reach the totes in the storage grid, this motion is driven by a lead screw motor. The tote will be pulled onto the tray by a arm attached to a chain driven by a stepper motor.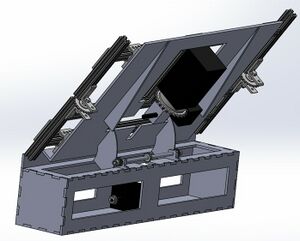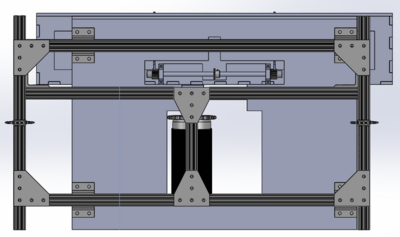 Team Members
[
edit
]
Tote Takers

David Kennedy
Mechanical Engineer
Aaron Burton
Mechanical Engineer
Braden Sprenger
Mechanical Engineer
Daniel Sorenson
Electrical Engineer