Boeing Sidewall Lighting Installation
Jump to navigation
Jump to search
The sidewall lighting installation for the Boeing 737 is a long and exhaustive process for the production line operators. The objective of our team was to find solutions to make this process faster and more ergonomic.
Sidewall Lighting Installation

Sponsor
Boeing
Lead Instructor
Dr. Beyerlein
Mentor
Sarah Willis
Team Name
UI BLT
Team Members
Mariana Burdelis, Alexandra Edwards and Michael Ortman
Duration
Fall 2017 - Spring 2018
Project Overview
[
edit
]
Problem Statement
[
edit
]
The UI team collaborated with 737 Interior Lighting group to develop technical solutions and new concepts for the 737 Interior Sidewall Light installation. A primary objective of this project was to demonstrate methods to reduce touch time required for the assembly and installation of the sidewall lights into air conditioning aluminum extrusions. Focus areas included light assembly packing, electrical connector hardware selection and placement, and improved installation scenarios that reduce human factors stress.
Design Goals
[
edit
]
Our team goals were:
To design, or find within the industry, new components to implement within the installation process that will reduce the assembly and installation time.
To reduce process assembly errors and the number of parts discarded due to damage during incorrect installation.
Project Deliverables
[
edit
]
At the end of our term, our team delivered:
New parts chart, with suggestions for part substitutions accompanied by the time reduction calculated by the team.
New parts schematics and 3D models.
Mock-up model of the fuselage panel.
Project Specifications
[
edit
]
The team must avoid making changed to the AC rail assembly and any proposed solution should be a drop-in replacement.
Simulated Assembly Process
[
edit
]
In order to reduce the installation time and test proposed solutions the team must have a base measured quantity. The current installation process will be timed by the team at its own pace and then compared to the time the team takes to assemble the new proposed models. The team will measure the time it takes to assemble two adjacent sidewall light fixtures. The target is to complete the installation in five minutes (current time is seven and a half minutes).
Foolproof Electrical Connectors
[
edit
]
The currently used connectors have asymmetrical design and different external styles. The proposed solution must eliminate the possibility of connector misalignment in order to reduce the quantity of connectors broken during installation. New connectors suggested by the group must:
Support quick lean installation of 737 sidewall lights into 737 AC rail.
Be test per MIL-STD-1344, method 1004.1, using pressure cycling to 50,000 ft level.
Have "Pin Through" RS485 shield.
Meet FAR 25.17xx Electrical Wiring Interconnection Systems (EWIS) requirements.
Meet FAA requirements.
Foolproof Retainer Clip
[
edit
]
The current retainer clip used to connect the sidewall lighting protection lenses is difficult to install, as it is not stable enough for use with the power machine. This causes the need of frequent rework and a number of broken parts. The specification target it to reduce the mean rework rate to one percent.
Project Design and Development
[
edit
]
The team's research is divided into studying connector solutions and creating a mock-up model of the AC rail for installation time measurement.
Current Connectors Used By Boeing
[
edit
]
| Data Connector | Power Connector | Power and Data Connector |
| --- | --- | --- |
| | | |
The following issues have been identified:
Round geometry makes it difficult to identify correct mating positioning of connectors.
Locking mechanism is complicated and hard to turn.
Connectors are bulky, which gives operators a very small area to tuck-in.
Difficulty with lock and mating positioning is causing operators to mash internal connector pins.
Sidewall Mock-up Model
[
edit
]
| 3D Model | Frontal View | Side View |
| --- | --- | --- |
| | | |
The mock-up interior sidewall was designed and created to conduct time studies. Our design constraints are:
Provide a test section for securing LED strips.
Replicate the height and angle of actual sidewall.
Portable for easy transportation.
Materials Provided by Boeing:
Sidewall panel.
Section of the AC rail.
One maximum length LEB board (34 inches).
Parts fabricated at the University of Idaho:
Wooden frame (laser cut).
Complete section of the AC rail (bent and cut aluminum sheet).
LED Board Mock-up Model
[
edit
]
| Mock-up With Original Connectors | Mock-up With New Connectors | Mock-up With New Board Design |
| --- | --- | --- |
| | | |
The mock-up LED boards were designed and fabricated to conduct time studies. Our design constraints are:
One mock-up model for each project design stage.
Match outer geometry to replicate actual Boeing LED board (17 inch model).
Respect the wire gauges and length.
Replicate LEDs with Adafruit neopixel strips.
Fabricated with laser cut wood boards.
New Generation of Connectors - Ethernet Style
[
edit
]
| Nine Pin Connector - Power and Data | Four Pin Connector - Power | Five Pin Connector - Data |
| --- | --- | --- |
| | | |
The new generation of connectors follows the specifications:
Design is based off an Ethernet port.
The rectangular profile reduces the chance of mating the ends incorrectly saving the pins from being smashed.
Easy clipping mechanism reduces installation time.
Data connector and power connector are no longer the same size and cannot be confused during installation.
Design respects the original variety of a nine pin data and power connector, a five pin data connector, and a four pin power connector.
| Fabricated Male Connectors | Fabricated Female Connectors |
| --- | --- |
| | |
Fabrication process and specifications:
Shells were 3D printed from Solid Works models using PLA material.
Security clips were not included in fabrication due to 3D printer constraints (predicted to not affect time studies).
Internal pins were replicated by press fitting metal dowel pins into the PLA .
Due to material constraints the internal pins are all the same size (predicted to not affect time studies.
Lens Retainer Bracket
[
edit
]
| Pin | Lock | Pin Locked in Bracket |
| --- | --- | --- |
| | | |
The lens retainer bracket currently used by Boeing must be installed in tight spacing at an awkward angle. The necessity of using a power tool to insert a screw at those conditions constantly causes cross threading. This process not only frustrates the operators but also causes the need for replacing damaged pieces often. The new lens retainer bracket was created as a proof of concept and not for time study purposes. Our design constraints are listed below:
Insert and twist design eliminate cross threading.
Ball-pin and bar lock system were designed to be flush and prevent passenger tempering, as well as disconnection due to vibration.
Pin can be inserted with a flat head screw driver.
Lock can be removed for maintenance with the use of flat nose pliers.
Plastic fabrication material prevents electric conduction.
Lens retained bracket fabrication:
3D printed with PLA.
Fabricated four times the original size due to printer restrictions.
Printed as multiple different parts put together (holes seen on picture auxiliary assembly orientation).
Design Alternatives
[
edit
]
Use of Velcro Instead of Zip-Ties
[
edit
]
During the current wire tuck-in process, wires are secured together with zip-ties prior to being placed inside the AC rail. This process causes difficulties to the operators:
Extra piece of material the operators need to locate and place in the assembly line.
Requirement of cutting excess material (need of cutting tool use).
Excess material becomes debris that needs to be cleaned.
If maintenance is required, zip-ties must be cut off and replaced.
As a solution our team suggested the use of Velcro strips, attached to the LED boards prior to being loaded to the airplane. This process has the following advantages:
Eliminates use of cutting tool.
Velcro is reusable.
Attaching strips prior to installation saves time in the assembly line.
Eliminates debris formed by excess zip-ties.
LED Board Design
[
edit
]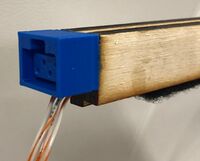 As a possible solution, the team attempted a redesign of the original LED board by attaching the female connectors directly to the board. The idea was to eliminate one of the two pieces of wire required, facilitating wire tuck-in. However due to the tight spacing constraint of the AC rail, this process increased the time it takes to install the five and four pin connector combination, and was infeasible for the nine pin connector.
VGA Style Connectors
[
edit
]
| Male VGA Style Connector | Female VGA Style Connector |
| --- | --- |
| | |
This design was proposed as an alternative to the VGA style connector. It has the following characteristics:
Use of two locking pins instead of one for more security.
Possibly more difficult to disconnect.
The clipping mechanism is the primary difference and could not be accurately represented using 3D printing.
Presented as proof of concept since time studies were predicted to be the same as the Ethernet style connectors.
Time Studies
[
edit
]
Time studies were conducted for original connectors, Ethernet style connectors and tuck-in processes (both zip-tie and Velcro) The method used to conduct these studies is below:
Attach the mock lighting strips to the AC rail using Velcro strips.
The first team member uses a stop watch to monitor the installation.
The second team member performs the installation:

By connecting the LED strips together.
By securing and tucking-in wires.

The last team member records the time and calculates averages.
Each installation is performed five times per team member.
Original Connectors
[
edit
]
Ethernet Style Connectors
[
edit
]
Tuck-In Process
[
edit
]
Summary
[
edit
]
Time savings:
Our design reduced the 4 and 5 pin connector installation time by 60% and the 9 pin connector installation by 95%.
The Velcro alternative produced a time savings of 39%.
In addition less time will be spent on part replacement.
Material savings:
The asymmetrical connector design results in less damaged parts in production.
The new retainer clip eliminates the cross threading issue also leading to a reduction in damaged parts.
Ergonomic Impact:
Significant time reductions for installations will also reduce the time operators need to work in uncomfortable positioning.
Team Information
[
edit
]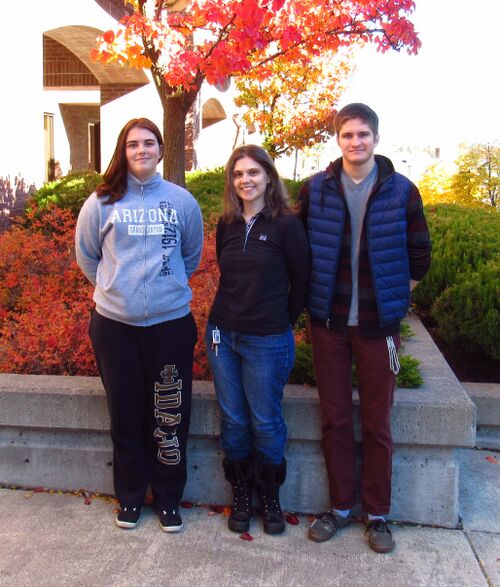 From left to right: Alexandra Edwards, Mariana Burdelis and Michael Ortman.
| | | |
| --- | --- | --- |
| Member | Biography | Discipline |
| Alexandra Edwards | I'm a senior in Mechanical Engineering at the University of Idaho. I love math, science, and designing so engineering was the perfect fit. In my spare time I enjoy various types of arts and crafts along with playing in a dart league. | Mechanical Engineering |
| Mariana Burdelis | I'm a senior Computer Engineering at the University of Idaho. I chose engineering because I love to improve and create new things. When I'm not studying I like to make jewelry, play with my pets or play video games with my husband. | Computer Engineering |
| Michael Ortman | I'm a senior in Mechanical Engineering at the University of Idaho. I chose engineering because it incorporates math and science into design. I enjoy long boarding in the summer, snowboarding in the winter and I like to draw all year round. | Mechanical Engineering |