Cerebrospinal Fluid Pump
From Mindworks
[[File:

|300px|center|alt=]]
Image by Krissy Buckler
Sponsors
Team Name
neuroForce
Duration
Summer 2017 - Fall 2017
Faculty Adviser
Client
Team Members

Krissy Buckler
Nick Shaber
Claire Majors
Brian Aldrimk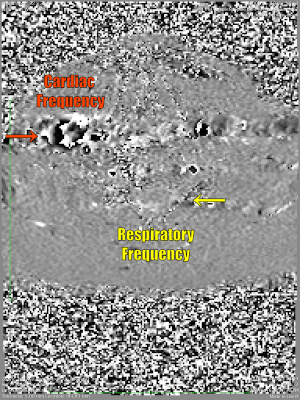 The goal of the project is to design, test and refine a compact, low-cost, oscillatory-flow pump that will reproduce realistic cerebrospinal fluid (CSF) flow conditions within a given range of human/animal cerebrospinal models. Flow rates mimic cardiac and respiratory frequencies and have an adjustable frequency and flow volume.

Image(Left): MRI, Top view of Human Neck. *Source: www.NIML.org
Background
[
edit
]
Central nervous system (CNS) diseases can be difficult to treat because many potential drugs cannot reach the brain due to the blood brain barrier. A potential new route to get drugs to the brain is to inject them into the cerebrospinal fluid (CSF). One way to bypass the blood brain barrier is by direct injection of drugs to the CSF. Drugs can then spread/mix in the CSF and be distributed directly to the brain and spinal cord tissue surface.
The CSF is a clear water-like fluid located around the entire brain and spinal cord and pulses each time the heart beats thereby making it a good medium to transport drugs to the CNS. One problem with delivering drugs to the CNS by the CSF is that it requires extremely expensive (and ethically nebulous) animal studies to understand and optimize the delivery device and protocol. Thus, the NIML is designing the world's first laboratory bench-top simulator of the complete CSF system for brain therapeutic development. They have an ongoing project to make a detailed in vitro model that accurately represents the CSF anatomy and flow that would accommodate testing with medical devices. The Cerebrospinal Fluid Pump project is designed to pair with the NIML's existing human spinal model to make a complete CSF system simulation.
Deliverables
[
edit
]
The cerebrospinal-fluid pump must produce an oscillating flow within spinal cord models ranging from the size of a human to a small vertebrate. This flow must be adjustable in volume and frequency. Ideally the design should be low-cost and easy to operate, as it is intended to be widely distributed for laboratory testing. The design must also include a 5V, square wave-form trigger that simulates the human heartbeat in MRI testing.
Specifications
[
edit
]

Project Learning
[
edit
]
Belt Design

[

edit

]

Features:

Belt driven by 2 stepper motors.
Dowel rod slider connected to belt and syringe to guide linear motion.

Pros:

Cons:

Flywheel Design

[

edit

]

Single stepper motor drive
Adjustable flow volume

Lead screw adjustment for eccentricity offset
Interchangeable syringe mount

Light weight and Compact

single motor
Total length ≈ 2inches more than syringe length

Frequency adjustable through computer Control

Pros

Frequency computer controlled
Robust/Repeat-ability
Easily convertable to non-ferrous materials
Simple integration for a pneumatic motor control

Cons

Manual volume control

Linear Actuator

[

edit

]

Features:

Servo-motor linear actuator with relay.
programmable linear motion.

Pros:

Cons:
Team Members
[
edit
]
Brian Aldrimk:

Major: Mechanical Engineering/Pre-med
Hometown: Eagle,ID
Graduation Date: May 2018
Hobbies: Traveling, Volunteer work, Hiking, Tennis
Skills/Team Responsibilities: Project management, 3D design, programming, prototyping and testing
Future Goals: Medical Doctor
Email: aldr1383@vandals.uidaho.edu





Krissy Buckler:

Major: BS in Mechanical Engineering
Minor: Mathematics
Hometown: Tumwater, WA
Graduation Date: December 2017
Hobbies: Culinary Arts, Upcycle Crafting, Graphic Design
Skills/Team Responsibilities: Organization, Design, 3D Modeling/Machining
Future Goals: Work in prosthetics design or rehabilitative robotics.
Email: buck8903@vandals.uidaho.edu





Claire Majors:

Major: Mechanical Engineering
Hometown: Kamiah, ID
Graduation Date: December 2017
Hobbies: Backpacking, Spanish, Snowboarding, Motorcycling, Literature and History
Skills/Team Responsibilities: 3-D Modeling & Printing, Arduino Programming, Project Budget, Design
Future Goals: Aerospace Design, Manufacturing, and Flight
Email: lucy8500@vandals.uidaho.edu





Nick Shaber:

Major: Mechanical Engineering
Minor: Mathematics
Hometown: Spokane Valley, WA
Graduation Date: December 2017
Hobbies: Fishing, Hunting, Backpacking, Skiing, Automotive Work
Skills/Team Responsibilities: Modeling, Concept Design, Machining and GUE Programming
Future Goals: Design and Manufacturing work with Mechanics and Materials Emphasis
Email: shab4213@vandals.uidaho.edu