Doubly-fed induction generator (DFIG)
Jump to navigation
Jump to search
[[File:[[File:|thumb|300px|left]]|300px|center|alt=]]
Team Name
Dang! the Fan Is Going
Duration
Spring 2019 - Fall 2019
Faculty Adviser
Mentor
Team Members

Xin Han
Zhengqi Li
Manasa Pothamsetty
The goal of the project is to build a motor generator system that mimics a wind energy system, which is based on a Type-Ⅲ DFIG, the main task is to design a controller for the rotor side that will enable the machine to turn at a very low frequency, but generate at 60 Hz using a variable speed drive system.
Background
[
edit
]
The doubly fed induction generator (DFIG) wind energy system is widely accepted in today's wind energy industry. The DFIG is essentially a wound rotor induction generator in which the rotor circuit can be controlled by external devices to achieve variable speed operation. The stator of the generator is connected to the grid through a transformer, whereas the rotor connection to the grid is done through power converters, harmonic filters, and the transformer.
The stator of the generator delivers power from the wind turbine to the grid, as for the rotor, the power can be delivered from the rotor to the grid and vice versa through rotor-side converter (RSCs) and grid-side converters (GSCs).
Deliverables
[
edit
]
The major task for the first semester is to understand the DFIG and measure the parameters of the machine our team use in the power lab. The task for the second semester is to successfully model and design appropriate control system required to achieve constant DC voltage across the Capacitor used even at low frequencies.
Specifications
[
edit
]
Generate constant 60Hz power at different low frequencies.

Should be capable of functioning in both sub-synchronous and super-synchronous mode.
Design Considerations
[
edit
]
The DFIG is a type of induction machine, so the locked-rotor test, the no-load test and the DC test need to be performed to measure the parameters, to check if the parameters make sense, we can test the machine with variable loads to come up with a torque-speed curve, and use it as a reference to see if the torque-speed curve from the simulation using parameters derived from tests matches.
Current-controlled Real/Reactive Power Controller with a Controlled DC-Voltage Power Port in dq-frame
Project Learning
[
edit
]
Since our team members weren't really familiar with DFIG, we had to do a lot of readings and researches to get the ideas of how DFIG works and control over it. Also, it is a hard project that was out there for several semesters and even graduate students worked on it, our progress can be very slow. We took three weeks in the power lab to test the machine in sub-synchronous and super-synchronous mode and did the locked-rotor test, the no-load test and the DC test. Below is the result we got for our first parameter tests.

Final Design
[
edit
]
Final design is not available since we are only half way though this project. We plan to have a working model of the rotor side converter and a functioning hardware built, depending on how far we can go on this project.
Team Members
[
edit
]
Xin Han
Major: Electrical Engineer
Hometown: Nanchong, Sichuan China
Responsibility: wikipage, portfolio
Email: han1037@vandals.uidaho.edu


Zhengqi Li
Major: Electrical Engineer
Hometown: Taiyuan, Shanxi China
Responsibility: Budget
Email: li6879@vandals.uidaho.edu





Manasa Pathamsetty
Major: Electrical Engineer
Hometown: India Andrea Pradesh
Responsibility: Team Leader
Email:poth4978@vandals.uidaho.edu




CPM Chart
[
edit
]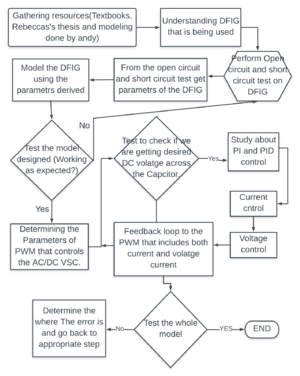 Meeting Minutes
[
edit
]
File:Minute-1 Han 02 12 2019.pdf
File:Minute-2 Li 02 19 2019.pdf
File:Minute-3 manasa 02 26 2019.pdf
File:Minute-4 Li 03 07 2019.pdf
File:Minute-5 Han 03 26 2019.pdf
File:Minute-6 Manasa 04 02 2019.pdf
File:Minute-7 Li 04 02 2019.pdf
File:Minute-8 Han 04 11 2019.pdf
File:Minute-9 manasa 04 23 2019.pdf
Presentations
[
edit
]