Turn to Turn Fault Detection for Air Core Reactors
Jump to navigation
Jump to search
Air Core Reactors at Noxon Rapids Dam
Team Name:
VARsity
Term:
Fall 2016 - Spring 2017
Sponsors:
Faculty Advisors:
Graduate Mentor:
Students:

Jacquelyn England
Andrew Hoth
Justin Jeter
Tanner Mort




The goal of this project is to create a small scale model of a 3 phase dry type shunt air core reactor in order to simulate and test inter-turn faults. The project will also entail an RTDS model of the system to further test more in depth fault scenarios, as well as correlating data.
Problem
Background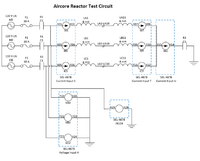 Avista deployed a system of air core reactors at their Noxon Rapids Dam in Montana in order to drop the bus voltage at the dam to help keep voltage levels even across the grid. Although the reactors have common protection schemes deployed already, there is currently no way for a protective relay to detect an inter-turn fault within a single phase of an air core reactor; a situation which could lead to complete failure and destruction of a reactor.
Deliverables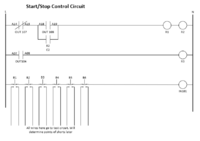 The goal of this project is to develop a protective relaying algorithm which will enable an IED, specifically an SEL 487E, to detect inter-turn faults within a single phase of an air core reactor.
Specifications
Voltage: 120V Line to Neutral
Current: Less than 5A
Wire: 15AWG
Multiple test points necessary for simulating short circuiting
Range of test coil inductance sizes to short across
Must be air-core
Needs to be solid and mobile with a non-conducting frame
Project Learning
Client Interview
Wrote a list of technical, budget, and miscellaneous questions for client to make sure we approached this project fitting our client's needs
From the answers we obtained, we were able to build a better foundation for starting this project
Lead Instructor and Technical Advisor Meetings
Every week we meet with our lead instructor and our technical advisor to go over the progress of the project
Topics such as due dates, technical progress, budgets, and brainstorming are all discussed during these meetings
Tour of Noxon Rapids Dam and Reactor Substation
The VARsity senior design team along with the graduate student mentor were given a tour of Avista's Noxon Rapids Dam and reactor substation in order to ask questions and learn more insight into exactly how the work performed in the senior design project would benefit our customer's SEL and Avista.
Load Calculations:

Self Wound Coil Calculations: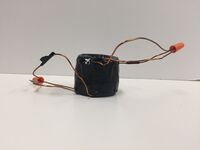 Research
Design
Scaled Test Circuit
In order to create an environment for testing, it will be necessary to build a scaled test circuit that can operate at 120V per phase which we can use to manipulate in order to test for inter-turn faults.
For the small scale model air core reactors, we will be using Jantzen Audio 10mH 15AWG air core inductors as seen to the right. The plan is to have about 7 of these per phase hooked in series to create the modeled inductor bank. On one of the phases, a single coil will be removed and replaced with a self wound coil that has been manipulated in order to introduce a shorted winding fault into the circuit.
The phase current is to be limited to run below 5 Amps RMS in order to deviate from having to use potential and current transformers for relay metering purposes.
For the design, we will use PVC pipe to stack the coils on top of each other vertically. two of the "towers" will be 80mH and the third tower will be 66mH with a 14mH special coil connected in series with multiple shorted test points to give three equal phases.
After stacking the coils on top of each other on the mounting frame, it was important to make sure each phase had the same amount of inductance and resistance. In order to compensate for the additional resistance on the test phase, a 1 Ohm power resistor was connected in series with the two steady state phases to bring us back to specifications.
RTDS Model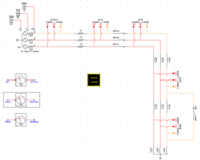 In order to correlate data, it is necessary to have an RTDS model simulation program to see if certain test points give the same data during a fault condition. The model can also be easily scaled up to the rated values of the Noxon Reactor substation in order to see how well the small scale model correlates data during normal operating and fault conditions as opposed to the live system.
The RTDS model makes it easier to show the magnitude of the fault current that would flow through a shorted winding, as well as give the design team a good starting point as for the magnitude of fault to introduce on the small system.
Further down the road, the model may be used to hook up to an SEL relay's low level voltage test interface to be able to simulate the RTDS circuit to the relay to test protection schemes and validate relaying algorithms.
Results
After capturing fault and steady state current waveforms from the small-scale model and comparing them with the waveforms simulated by the RTDS model, we were able to prove that the small-scale model we created was an accurate representation of an air core reactor.
In addition to our testing, our graduate mentor Asad was successfully able to use the project to help defend his masters thesis which also helps validate our construction of the small-scale air core reactor.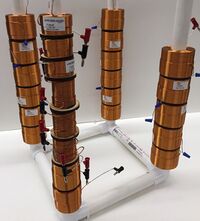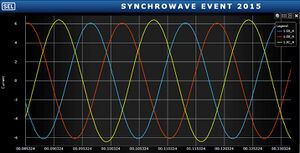 Team Information
Jacquelyn England
Interests: Power Analysis

Hobbies: Hiking, Running, Fishing, Camping, Watching Movies.

Electrical Engineering
Email: lyn.duffau.england@gmail.com

Andrew Hoth
Interests: Power and Microelectronics

Hobbies: Traveling

Electrical Engineering
Email: scypherhoth@gmail.com

Justin Jeter
Interests: Power and Power Protection

Hobbies: Home brewing, active in Homebrewers of Palouse (HOPS), and placed in several brewing competitions. Hiking, camping, mountain biking, snowboarding, and anything outdoors . Motorcycling around PNW.

Electrical Engineering
Email: justin_jeter@selinc.com

Tanner Mort
Interests: Microcontrollers and Digital Systems, Power and Power Electronics, Automation.

Hobbies: Hunting, Fishing, Playing with my Dogs.

Electrical Engineering
Email: mort7075@vandals.uidaho.edu
Document Archive
Client Interview
Design Review
Expo Poster
Final Report
Meeting Minutes