Variable Speed Treadmill for Studying Neonatal Rats
[[File:

|300px|center|alt=]]
Sponsors
Idaho State University
Team Name
Rat Pack
Duration
Fall 2018 - Spring 2019
Faculty Adviser
Dev Shrestha
Mentor
Jacob Miller
Clients

Michele Brumley/ Idaho State University
Nathen Schiele/ University of Idaho

Team Members

Colin Burkhalter, ME
Mitchell Williams, ME
Stephen Schoonen, BE
Stuart Sater, BE
The goal of the project is to design, build, and evaluate a variable speed and variable incline treadmill for exploring the impact of locomotor activity on the development of motor control and musculoskeletal tissues.
Problem Definition
[
edit
]
Background
[
edit
]
Our treadmill will make research much easier for the lab technicians at ISU. Our robust and simple to control design will allow for less downtime and headache when testing the effects that early locomotion have on the animal's tissues. This advancement could help the researchers expand our knowledge of biological tissues and their formation/growth, as well as psychological changes in animal models.
Specifications
[
edit
]
The client has listed the project requirements in order of priority. It is anticipated that all of the following requirements will be met.
HIGHER Priority
Belt size: ~12 cm width x 20 cm length
Belt material that could be wiped off and cleaned, will not tear easily, and possibly be replaceable
Variable speed control ranging from 0.5 cm/s to 15 cm/s
User friendly interface for speed control – preferably developed in an open-source software program or via microprocessor
Treadmill will be operated in temperatures from 25 to 35 degrees Celsius
Removable transparent walls and bumpers
MEDIUM Priority
Variable ramp/incline angle from 0 to 15 degrees.
LOWER Priority
Automatic timer
Safety features including emergency stop button
Transparent belt and housing for video gait analysis (video camera mounted below the belt)
Progress Tracking
[
edit
]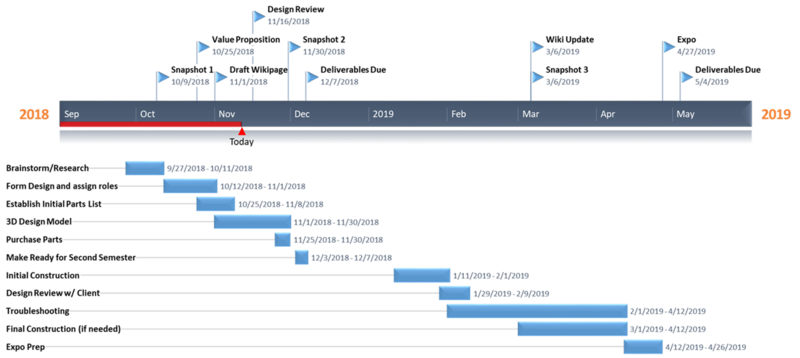 Design Considerations
[
edit
]
Incline Mechanism
Automatic Incline

Pros

Precise angle adjustment
Can be adjusted remotely
Provides active feedback through software
Allows surplus in lifting power for future design changes




Cons

Expensive linear actuator $140
Added complexity

Manual Incline

Pros

Requires no user electronic interaction
Quicker response time
Simpler




Cons

Difficult to adjust in incubator
Less precise
May require tools to operate
Motor Type
DC Motor

Pros

Less noise and shaking
With encoder it can be easily controlled
Smoother, continuous motion

Cons

Lower torque
May require more coding to maintain steady speed
Difficult to monitor speed without encoder

Stepper Motor

Pros

Precise speed/position control
Relatively simple to program
Maintains constant speed with varying load




Cons

Noisy
'Choppy' motion at lower speeds
High vibrations at low speeds
Control Interface
Touch Screen

Pros

Highly customizable
Easy to clean
Easy to understand
Sleek




Cons

Expensive, $50-$70
Relatively small screen/text
Potential for mis-selections




Button/Knob

Pros

Simple to operate
Robust, solid controls
Low cost, ~$20 for all components




Cons

Potential for loose wires
More difficult to clean
Not as sleek
Project Learning
[
edit
]
Lab Tour
Tour of Dr. Martins Lab to learn more about motor types and linear actuators. See full tour report here File:Ratpack martin lab tour.pdf
Control Interface
Research of different options for control interfaces. See control interface report here File:Ratrack userinterface.pdf
Final Design
[
edit
]
Validation
[
edit
]
Team Members
[
edit
]
Colin Burkhalter

Major: Mechanical Engineering
Hometown:
Graduation Date:
Future Goals:
Email:





Stuart Sater

Major: Biological Engineering
Hometown: Sandpoint, ID
Graduation Date: 12/15/19
Future Goals: Become an expert on the effects of spaceflight on vision
Email: sate9564@vandals.uidaho.edu





Stephen Schoonen

Major: Biological Engineering
Hometown: Idaho Falls, ID
Graduation Date: 12/15/19
Future Goals:Futhar my educatoon by attending medical school
Email: scho8422@vandals.uidaho.edu





Mitchell Williams

Major: Mechanical Engineering
Hometown: Coeur d'Alene, ID
Graduation Date:
Future Goals:Secure a job in the manufacturing Engineering field
Email: will1204@vandals.uidaho.edu




Additional Documentation
[
edit
]
Meeting Minutes
Presentations
File:Ratpack design review presentation.pdf

Client Interview