Vandal Forge Printer Software
From Mindworks
Sponsors
Team Name
Vulcan
Duration
Fall 2017 - Spring 2018
Advisors

Matthew Buchanan (Grad Student)
Andre Corpus (Grad Student)

Students

Jonathan Buch
Tim Clemans
Michael Madsen
James Young
Our team is customizing existing 3D plastic printing software for 3D Metal Printers. The goal of this project is updating the graphical user interface (GUI), reworking open source for use with the Vandal Forge printer, and increasing expandability of the project for future teams.
Problem Definition
[
edit
]
Current printing software is not customized for a 3D metal printer. Print instructions created by default slicer software contains extra unused commands and does not provide custom commands needed to run a 3D Metal printer. OctoPrint, the interface between the print instructions and the printer, was originally designed for plastic printers and does not have the necessary features for metal printing.
Background
[
edit
]
The Mark I 3D Metal Printer requires a custom print instructions file. Currently users must manually modify the printer instructions file that is created by the Slicer software.
Mark I Printer
Deliverables
[
edit
]
Customized Slicer Program

Slic3r software customized to produce 3D metal printer instructions. Slic3r takes a 3D model, "slices" it into print layers and creates printing instructions for the Printer. In addition to creating a custom metal printer printer instructions file we will be updating and streamlining the GUI.

GCode Before

GCode before removing unused Plastic Printer Instructions.

GCode After

GCode after removing the superfluous print commands.

Customized OctoPrint Program

OctoPrint software customized for 3D metal printing. Octoprint is the interface between the Printer and the printing instructions created by Slic3r.

Example of Updated OctoPrint GUI

Added University of Idaho colors, rearranged UI to put GCode upload section at top of the left column.
Printing Process
[
edit
]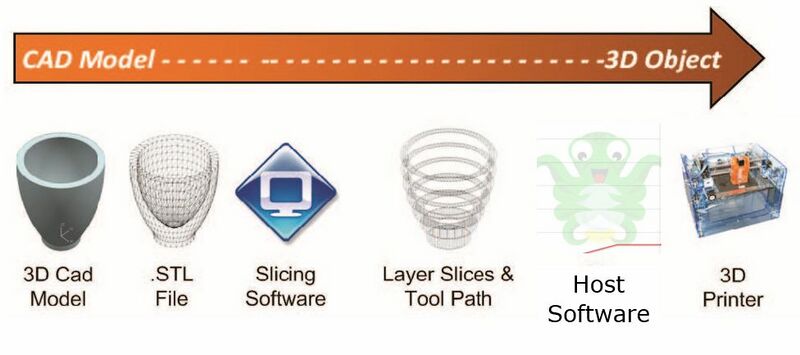 Slic3r Program slices up a 3D model (the STL file) into many layers and creates GCODE printing instructions for each Layer
OctoPrint takes the GCode instructions provided by Slicer and sends the instructions to the actual 3D Metal Printer. OctoPrint can adjust print instructions during a print.
The Printer prints an object based on the original 3D model.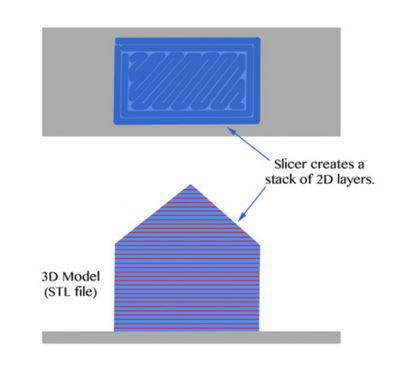 Team Goals and Objectives
[
edit
]
To improve the quality of the VandalForge Software while extending usability to allow further customization for future project endeavors.
Goals for Slicing Software
Easy to use
Integrates with OctoPrint
Modify the GCode output for immediate use with Forgeware
Can remove horizontal shells, infill, and interaction
Modify Slic3r with the ability to store temperature data from an active
Add additional options for heat and temperature control
Add Real time slicing
Goals for Hosting Software
Have convenient GUI for ease of use
Updates with print info in real time
Remove the plastic printer exclusive options from GUI
Add functionality using a regular and infrared camera
Add a real time temperature display of the active print
Specifications
[
edit
]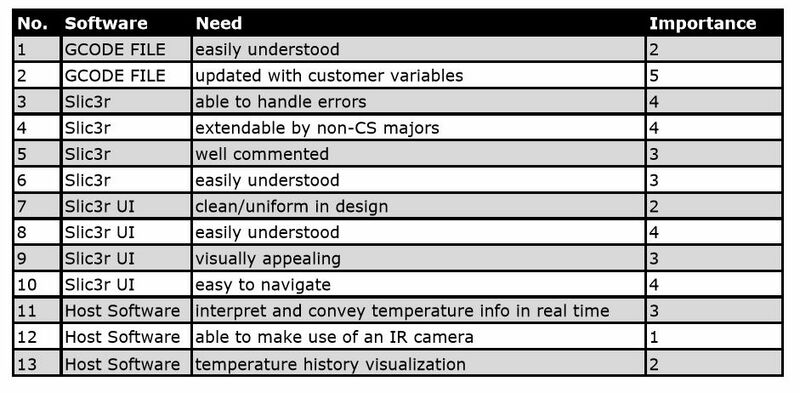 Schedule
[
edit
]
Fall 2017
Gather Specifications and Research Software
Research OctoPrint Host Software
Customize GCode File output via Slic3r Software
Design Review
Spring 2018
Make Modifications to OctoPrint Software
Custom GCode commands
GCode file analyzer
Preview of print path via OctoPrint
Add Mark II commands to OctoPrint UI
Integrate with the Mark I Metal Printer
Add Features specific for the Mark II Metal Printer
Documentation
Future
New Print Path Algorithm
Print temperature readout on 3D model in OctoPrint
Team Information
[
edit
]
From the left: Jonathan Buch, Tim Clemans, Michael Madsen, James Young,
Contact Info
Jonathan Buch: buch4710@vandals.uidaho.edu
Tim Clemans: clem8649@vandals.uidaho.edu
Michael Madsen: mads2998@vandals.uidaho.edu
James Young: youn5393@vandals.uidaho.edu
Document Archive
[
edit
]